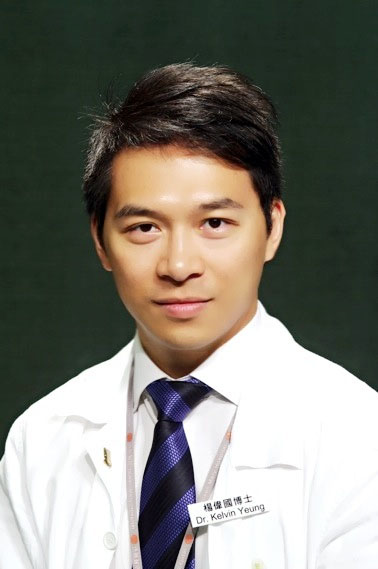 Ph.D., M.Phil., B.Sc. (Hons), MHKIE
Associate Professor
Deputy Director of Shenzhen Key Laboratory for Innovative Technology in Orthopaedic Trauma
The University of Hong Kong Shenzhen Hospital
Deputy Master
Lap-Chee College, The University of Hong Kong
Dr. Kelvin Yeung has been passionate in orthopaedic biomaterial research for more than 18 years. His major research areas cover from the development of metallic and polymeric orthopaedic biomaterials, to bone implant design and development as well as musculoskeletal tissue engineering. He trained as materials scientist in his bachelor degree and then orthopaedic scientist in HKU Medical Faculty for his master degree and PhD, respectively. He is currently Associate Professor (Tenured) in the Department of Orthopaedics and Traumatology, The University of Hong Kong. His h-index is 34 with more than 3,600 citations. In addition to his more than 140 peer-reviewed SCI journal papers published and 38 filed full patents in various countries, he has also co-founded the OrthoSmart Limited together with Dr Johnson Lau and Prof. Kenneth Cheung so as to translate their research findings to clinical use.
During these years, he had received numbers of award and scholarship from local and regional competitions such as Young Scientist Award 2005 and Young Engineer Award 2009, respectively. The total amount of grants and sponsors directly arising from his projects in PI and Co-PI capacity is over HK$46M. Additionally, he has supervised 7 PhD and 11 MPhil students since 2006. Furthermore, he obtained 18 prizes and awards from local and international competitions and conferences. Dr Yeung has also become an active member and actively served different executive positions in local and international professional bodies. Apart from these professional positions, he has appointed as Deputy Master of HKU Lap-Chee College so as to oversee the student education programs there.
Scoliosis and surgical correction for spinal deformities
Osteoporotic fracture management by using biomaterial system approach
Implant-related osteomyelitis
Musculoskeletal tissue engineering
3D microenvironment
Orthopaedic implant design and translation research
Shape memory alloys for biomedical use
Orthopaedic biodegradable materials
Surface treatments for biomaterials
Representative publications
Selected 10 publications: (From total of 130 publications, 5 book chapters, 200 international and local conference abstracts, 38 filed and granted patents related to surface treatments and clinical orthopaedics)
Hoi Man Wong, Shuilin Wu, Paul K. Chu, Shuk Han Cheng, Keith D.K. Luk, Kenneth M. C. Cheung, Kelvin W. K. Yeung*.  Low-modulus Mg/PCL bone substitute for osteoporotic fracture fixation. Biomaterials, Vol. 34(29), pp. 7016–32, 2013.
Zhao, Ying; Wong, Sze Man; Wong, Hoi Man; Wu, Shuilin; Hu, Tao; Yeung, Kelvin W.K.*; Chu, Paul*.  Effects of Carbon and Nitrogen Plasma Immersion Ion Implantation on In Vitro and In Vivo Biocompatibility of Titanium Alloy.  ACS Applied Materials and Interfaces, vol. 5, no. 4, pp. 1510 – 1516, 2013.
Kelvin W. K. Yeung*,#, S. L. Wu#, Y. Zhao, X. M. Liu, R. Y. T. Kao, K. D. K. Luk, K. M. C. Cheung, Paul K. Chu. Antimicrobial Effects of Oxygen Plasma Modified Medical Grade Ti-6Al-4V Alloy.  Vacuum vol. 89, pp. 271 – 279, 2013.
W.Y. Tong, Wei Shen, W.F. Yeung, Ying Zhao, Shuk Han Cheng, Paul K. Chu, Danny Chan, Godfrey C.F. Chan, Kenneth M.C. Cheung, Kelvin W.K. Yeung*, Yun Wah Lam*.  Functional replication of the tendon tissue microenvironment by a bioimprinted substrate and the support of tenocytic differentiation of mesenchymal stem cells. Biomaterials Vol. 33(1), pp. 7686–98, Nov 2012. (Highlighted in Mesenchymal Cell News http://connexoncreative.com/publications/archives/MSC429.aspx)
Ying Zhao, Guosong Wu, Qiuyuan Lu, Jun Wu, Ruizhen Xu, Kelvin WK Yeung* and Paul K Chu*. Improved Surface Corrosion Resistance of WE43 Magnesium Alloy by Dual Titanium and Oxygen Ion Implantation. Thin Solid Films, vol.529, pp.407-11, 1 Feb 2013.
Ying Zhao, Guosong Wu, Jiang Jiang, Hoi Man Wong, Kelvin WK Yeung* and Paul K Chu. Improved Corrosion Resistance and Cytocompatibility of Magnesium Alloy by Two-Stage Cooling in Thermal Treatment.  Corrosion Science, vol.59, pp. 360-5, Jun 2012.
Ying Zhao, Guosong Wu, Haobo Pan, Kelvin WK Yeung* and Paul K Chu. Formation and Electrochemical Behavior of Al and O Plasma-Implanted Biodegradable Mg-Y-RE Alloy.  Materials Chemistry and Physics, vol.132(1), pp.187-91, Jan 2012.
Shuiling Wu, Xiangmei Liu, Amy Yeung, Kelvin WK Yeung*, Richard Y. T. Kao, Guosong Wu, Tao Hu, Zushun Xu, Paul K. Chu*. Plasma-Modified Biomaterials for Self-Antimicrobial Applications. ACS Applied Materials and Interfaces, vol. 3 (8), pp.2851–2860, 2011.
WY Tong#, YM Liang#, V Tam, HK Yip, YT Kao, KMC Cheung, KWK Yeung*, YW Lam*. Biochemical characterization of the cell-biomaterial interface by quantitative proteomics. Molecular & Cellular Proteomics, vol. 9, pp. 2089-98, 2010.
HM Wong#, KWK Yeung#, KO Lam, V Tam, PK Chu, KDK Luk, KMC Cheung. A Biodegradable Polymer-Based Coating To Control The Performance Of Magnesium Alloy Orthopaedic Implants. Biomaterials, Vol.31(8):2084-209, March 2010.