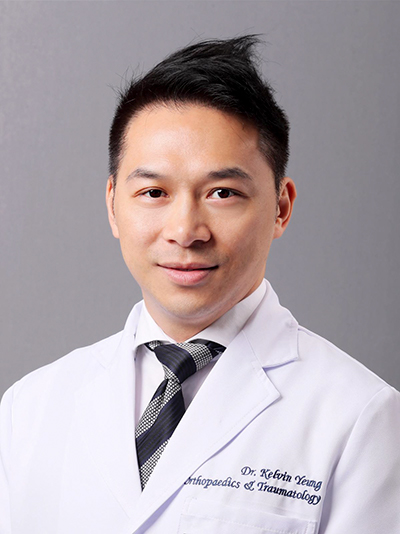 Ph.D., M.Phil., B.Sc. (Hons), MHKIE
Professor
Deputy Director of Shenzhen Key Laboratory for Innovative Technology in Orthopaedic Trauma
The University of Hong Kong Shenzhen Hospital
Deputy Master
Lap-Chee College, The University of Hong Kong
Link to HKU Scholars Hub
ORCID iD: 0000-0003-0887-088X
Contact email
Professor Kelvin Yeung is passionate in orthopaedic biomaterial research for about 20 years. His major research areas cover from the design of orthopaedic biomaterials, antibacterial coating, 3D bio-printing as well as musculoskeletal tissue engineering. He trained as materials scientist in his bachelor degree and then orthopaedic scientist in HKU Medical Faculty for his master degree and PhD, respectively. He has particularly focused to the area of bone-to-implant osseointegration and antibacterial surfaces these years [1-10].
He is currently tenured professor in the Department of Orthopaedics and Traumatology, The University of Hong Kong. His h-index (Scopus) is 53 with 9,500> citations and 59 (Google Scholar) with 11,700> citations. He has also been ranked as the Top 1% Scholars Worldwide in the field of biomaterials by Clarivate Analytics's Essential Science Indicators (ESI) from 2014-2020 consecutively. In addition to his more than 260 peer-reviewed SCI journal papers published and 41 filed full patents in various countries, he has co-founded the OrthoSmart Limited together with two senior colleagues so as to translate their research findings to clinical use.  He now serves as a director of this startup company. Furthermore, he has been invited to be the consultants of few medical device and biomaterials incorporations.
During these years, he had received numbers of award and scholarship from local and regional competitions such as Young Scientist Award 2005 and Young Engineer Award 2009, respectively. The total amount of grants and sponsorships directly arising from his projects in PI and Co-PI capacity has been over HK$76M. Additionally, he has supervised 16 PhD and 10 MPhil students since 2006. Furthermore, he obtained 19 prizes and awards from local and international competitions and conferences. Dr Yeung has also become an active member and actively served different executive positions in local and international academic bodies. He is also the Associate Editor of Bioactive Materials Journal (Impact factor (2019): 8.724, ranked 2nd out of 38 journals in the field). Apart from these professional positions, he has been appointed as Deputy Master of HKU Lap-Chee College so as to oversee the student education programs there.  
Scoliosis and surgical correction for spinal deformities
Bone fracture management by biomaterial approach
Implant-related osteomyelitis
Musculoskeletal tissue engineering
3D bioprinting
Orthopaedic implant design and translation research
Shape memory alloys for biomedical use
Orthopaedic biodegradable materials
Surface treatments of biomaterials
Representative publications
Selected 10 publications: Number of peer-reviewed SCI journal papers:263; Number of conference abstracts:260; Number of granted/filed patents:41; h-index:59 with 11,777 total citations (Google Scholar) and 53 with 9,520 total citations (Scopus); World's Top 1% of Scholars Worldwide in Essential Science Indicators (ESI) (2014-2020 consecutively)
(Five most representative publications in recent five years)
Yizhou Zhu' Hang Liang, Xiangmei Liu*, Jun Wu, Cao Yang*, Tak Man Wong, Kenny Y. H. Kwan, Kenneth M. C. Cheung, Shuilin Wu, and Kelvin W. K. Yeung*. Regulation of macrophage polarization through surface topography design to facilitate implant-to-bone osteointegration. Science Advances, Accepted, Feb 2021. (IF:13.117 top 4 out of 71 in the field)
Wei Qiao, Karen H.M. Wong, Jie Shen, Wenhao Wang, Jun Wu, Jinhua Li, Zhengjie Lin, Zetao Chen, Jukka P. Matinlinna, Yufeng Zheng, Shuilin Wu, Xuanyong Liu, Keng Po Lai, Zhuofan Chen*, Yun Wah Lam*, Kenneth M.C. Cheung, Kelvin W.K. Yeung*. Nature Communications, Accepted, Jan 2021. (IF:12.121 top 6 out of 71 in the field)
Jinhua Li, Wei Liu, Xianlong Zhang*, Paul K. Chu*, Kenneth M. C. Cheung, Kelvin W. K. Yeung*. Temperature-responsive tungsten doped vanadium dioxide thin film starves bacteria to death. Materials Today, Vol.22, pp.35-49, February 2019. (IF:26.416 top 9 out of 314 in the field)
   Wei Liu, Jinhua Li, Mengqi Cheng, Qiaojie Wang, Kelvin W. K. Yeung*, Paul K. Chu* and Xinquan Jiang*. Zinc-Modified Sulfonated Polyetheretherketone Surface with Immunomodulatory Function for Guiding Cell Fate and Bone Regeneration. Advanced Science, Vol.5(10), Article number 1800749, October 2018. (IF:15.840 top 16 out of 314 in the field)
Jinhua Li, Jin Wen, Bin Li, Wan Li, Wei Qiao, Jie Shen, Weihong Jin, Xinquan Jiang*, Kelvin W. K. Yeung*, and Paul K. Chu*. Valence State Manipulation of Cerium Oxide Nanoparticles on Titanium Surface for Modulating Cell Fate and Bone Formation. Advanced Science, Vol.5(2), Article number 1700678, February 2018. (IF:15.840 top 16 out of 314 in the field)
(Five representative publications beyond the recent five-year period)
Zhengjie Lin, Jun Wu, Wei Qiao, Ying Zhao, Karen H. M. Wong, Paul K. Chu, Liming Bian, Shuilin Wu, Yufeng Zheng, Kenneth M. C. Cheung, Frankie Leung, Kelvin W.K. Yeung*. Precisely controlled delivery of magnesium ions thru sponge-like monodisperse PLGA/nano-MgO-alginate core-shell microsphere device to enable in-situ bone regeneration. Biomaterials, vol.174, pp.1-16, May 2018. (IF:10.317 top 1 out of 38 in the field)
Shuilin Wu, Xiangmei Liu, Kelvin W.K. Yeung*, Changsheng Liu, Xianjin Yang.  Biomimetic Porous Scaffolds for Bone Tissue Engineering. Materials Science and Engineering R: Reports, vol. 80, pp.1–36, June 2014. (IF:26.625 top 8 out of 314 in the field)
H. M. Wong#, Y. Zhao#, V. Tam, S. L. Wu, P. K. Chu, Y. F. Zheng, M. K. T. To, Frankie K.L. Leung, K. D. K. Luk, K. M. C. Cheung, and K. W. K. Yeung*. In vivo Stimulation of Bone Formation by Aluminum and Oxygen Plasma Surface-Modified Magnesium Implants. Biomaterials,vol. 34(38), pp.9863-76, 2013. (IF:10.317 top 1 out of 38 in the field)
Y. Zhao#, H. M. Wong#, W. H. Wang, P. H. Li, Z. S. Xu, E. Chong, S. M. Wong, C. H. Yan, K. W. K. Yeung*, and P. K. Chu*. Cytocompatibility, Osseointegration, and Bioactivity of 3-Dimensional Porous and Nanostructured Network on Polyetheretherketone. Biomaterials, Vol. 34(37), pp. 9264-77, 2013. (IF:10.317 top 1 out of 38 in the field)
HM Wong#, KWK Yeung#, KO Lam, V Tam, PK Chu, KDK Luk, KMC Cheung. A Biodegradable Polymer-Based Coating To Control The Performance Of Magnesium Alloy Orthopaedic Implants. Biomaterials, Vol.31(8):2084-209, March 2010. (IF:10.317 top 1 out of 38 in the field)
(*These authors equally shared corresponding authorship and # shared the 1st authorship)
[Updated on 25th Mar 2021]