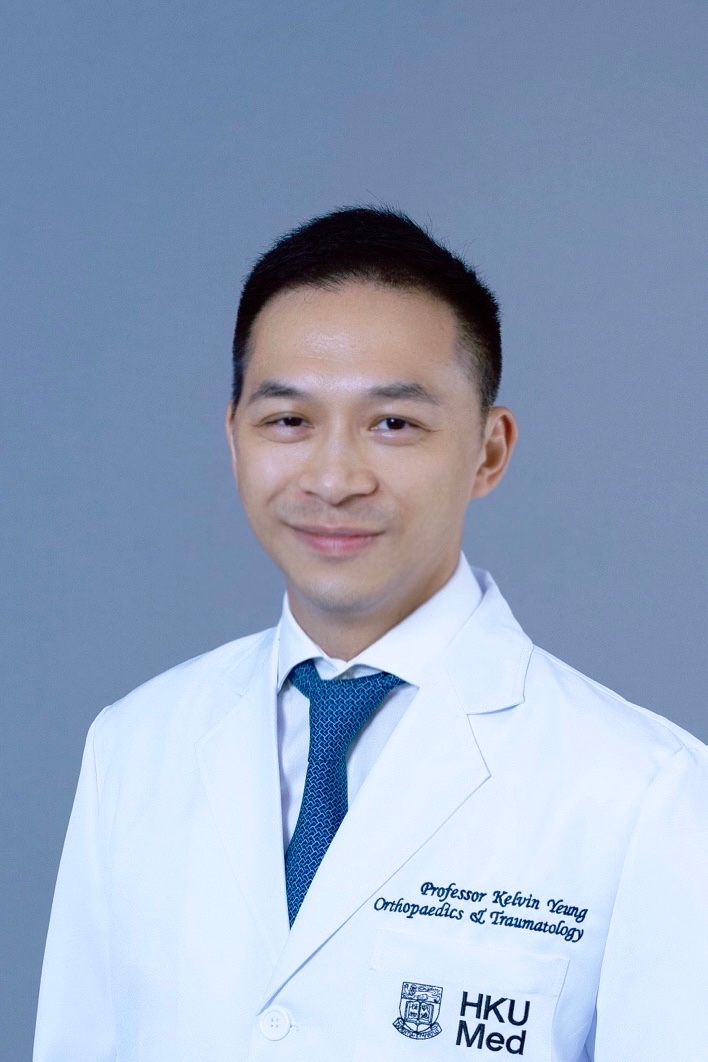 Ph.D., M.Phil., B.Sc. (Hons)
Chief of Research Division, and Departmental Research and Postgraduate Advisor
Director of Research Laboratory of Orthopaedic Centre
The University of Hong Kong Shenzhen Hospital
Deputy Director of Shenzhen Key Laboratory for Innovative Technology in Orthopaedic Trauma
The University of Hong Kong Shenzhen Hospital
Warden
Simon K.Y. Lee Hall, The University of Hong Kong
Professor Kelvin Yeung is passionate in orthopaedic biomaterial research and his major research areas cover from the design of orthopaedic biomaterials, antibacterial nano-materials, 3D bio-printing as well as musculoskeletal tissue engineering. He trained as materials scientist in his bachelor degree and then orthopaedic scientist in HKU Medical Faculty for his master degree and PhD, respectively. He has particularly focused to the area of bone-to-implant osseointegration, bone regeneration and antibacterial treatments these years [1-10].
He is currently tenured full professor, chief of research division and departmental research and postgraduate advisorin the Department of Orthopaedics and Traumatology, School of Clinical Medicine, LKS Faculty of Medicine (HKUMed), The University of Hong Kong. His h-index (Scopus) is 70 with 16,000+ citations and 78 (Google Scholar) with 20,000+ citations and i10-index 245. He has also been ranked as the Top 1% Scholars Worldwide in the field of biomaterials by Clarivate Analytics's Essential Science Indicators (ESI) from 2014-2022 consecutively. In addition to his more than 290 peer-reviewed SCI journal papers published and 41 filed full patents in various countries, he has co-founded the OrthoSmart Limited together with two senior colleagues so as to translate their research findings to clinical use.  He now serves as a director of this start-up company. Furthermore, he has been appointed as the consultants of Hong Kong listed medical and/or biomaterials incorporations.
During these years, he participated in local and regional competitions and received a number of awards and scholarships, including the Young Scientist Award 2005 and the Young Engineer Award 2009 and Faculty Research Output Award 2019. For projects in which he has acted in the capacity of principal investigator or co-principal investigator, he has received over HK$86,200,000. Professor Yeung is also a strong advocator for diversity, equity, and inclusion. He has trained 7 postdocs, 30 Ph.D. students, 19 MS students, and 4 FYP undergraduate students for research and over 50% of them are female, African, or people from middle-east countries. Furthermore, he has received 20 prizes and awards from local and international competitions and conferences. He has been invited to deliver more than 80 plenary lectures, keynotes or invited talks at international and regional conferences. Professor Yeung is an active member of local and international academic bodies and has served in several executive positions. He is also the Associate Editor of Bioactive Materials Journal (Impact factor (2021): 16.874, Ranking: 1/44 in materials science (Biomaterials)), the Secretary and founding member of Chinese Association for Biomaterials (CAB), the Chair of Orthopaedic Biomaterials, Society for Biomaterials (SFB) USA, the past Treasurer of CAB and the past Vice-Chair of SFB Orthopaedic Biomaterials. In addition, he has been appointed as the Warden of HKU Simon K. Y. Lee Hall, where he oversees the student education development.
Scoliosis and surgical correction for spinal deformities
Bone fracture management by biomaterial approach
Implant-related osteomyelitis
Antibacterial nano-materials
Musculoskeletal tissue engineering
3D bioprinting
Orthopaedic implant design and translation research
Orthopaedic biodegradable materials
Surface treatments of biomaterials
Representative publications
Ten selected publications: Number of peer-reviewed SCI journal papers:291; Number of conference abstracts:280; Number of granted/filed patents:41; h-index:78 with 20,141 total citations, i10-index 245 (Google Scholar) and 70 with 16,916 total citations (Scopus); World's Top 1% of Scholars Worldwidein Essential Science Indicators (ESI) (2014-2022 consecutively)
CNS Series
Yiming Xiang, Jiali Lu, Congyang Mao, Yizhou Zhu, Chaofeng Wang, Jun Wu, Xiangmei Liu*, Shuilin Wu*, Kenny Y. H. Kwan, Kenneth M. C. Cheung, Kelvin W. K. Yeung*. Ultrasound-triggered interfacial engineering-based microneedle for bacterial infection acne treatment. Science Advances, (accepted), 27 January, 2023. (IF:14.136, top 4 out of 126 in the field)
Wei Qiao, Hui En Lau, Huizhi Xie, Vincent Kwok-Man Poon, Chris Chung-Sing Chan, Hin Chu, Shuofeng Yuan, Terrence Tsz-Tai Yuen, Kenn Ka-Heng Chik, Jessica Oi-Ling Tsang, Chris Chun-Yiu Chan, Jian-Piao Cai, Cuiting Luo, Kwok-Yong Yuen, Kenneth Man-Chee Cheung, Jasper Fuk-Woo Chan*, Kelvin Wai-Kwok Yeung*. SARS-CoV-2 infection induces inflammatory bone loss in golden Syrian hamsters. Nature Communications, Vol.13, Article number: 2539, May 2022. (IF:14.919, top 4 out of 73 in the field)
Wei Qiao, Dayu Pan, Yufeng Zheng, Shuilin Wu, Xuanyong Liu, Zhuofan Chen, Mei Wan, Shiqin Feng, Kenneth M.C. Cheung, Kelvin W.K. Yeung*, Xu Cao*. Divalent Metal Cations Stimulate Skeleton Interoception for New Bone Formation in Mouse Injury Models, Nature Communications, Vol.13, Article number: 535, January, (IF:14.919, top 4 out of 73 in the field)
Wei Qiao, Karen H.M. Wong, Jie Shen, Wenhao Wang, Jun Wu, Jinhua Li, Zhengjie Lin, Zetao Chen, Jukka P. Matinlinna, Yufeng Zheng, Shuilin Wu, Xuanyong Liu, Keng Po Lai, Zhuofan Chen*, Yun Wah Lam*, Kenneth M.C. Cheung, Kelvin W.K. Yeung*. TRPM7 kinase-mediated immunomodulation in macrophage plays a central role in magnesium ion-induced bone regeneration. Nature Communications, Vol.12, Article number: 2885, May 2021. (IF:14.919, top 4 out of 73 in the field)
Yizhou Zhu' Hang Liang, Xiangmei Liu*, Jun Wu, Cao Yang*, Tak Man Wong, Kenny Y. H. Kwan, Kenneth M. C. Cheung, Shuilin Wu, and Kelvin W. K. Yeung*. Regulation of macrophage polarization through surface topography design to facilitate implant-to-bone osteointegration. Science Advances, Vol. 7(14), pp.eabf6654, 2 April, (IF:14.136, top 4 out of 126 in the field)
Advanced Materials Series
Congyang Mao, Wanyu Jin, Yiming Xiang, Yizhou Zhu, Jun Wu, Xiangmei Liu, Shuilin Wu, Yufeng Zheng, Kenneth M.C. Cheung, Kelvin Wai Kwok Yeung*. Realising highly efficient sonodynamic bactericidal capability through the phonon–electron coupling effect using two-dimensional catalytic planar defects. Advanced Materials,(accepted), 12th December 2022. (IF:086, top 4 out of 165 in the field)
Congyang Mao, Wanyu Jin, Yiming Xiang, Yizhou Zhu, Jun Wu, Xiangmei Liu*, Shuilin Wu*, Yufeng Zheng*, Kenneth M.C. Cheung, Kelvin Wai Kwok Yeung*. Reversing Multidrug-Resistant Escherichia coli by Compromising Its BAM Biogenesis and Enzymatic Catalysis through Microwave Hyperthermia Therapy. Advanced Functional Materials, Article number 2202887 (early online), 29th April, 2022. (IF:18.808, top 9 out of 162 in the field)
Wenting Li#, Wei Qiao#, Xiao Liu, Dong Bian, Danni Shen, Yufeng Zheng*, Jun Wu, Kenny Y. H. Kwan, Tak Man Wong, Kenneth M. C. Cheung, Kelvin W. K. Yeung*. Biomimicking bone–implant interface facilitates the bio-adaption of a new degradable magnesium alloy to the bone tissue microenvironment. Advanced Science, Vol.8 (23), pp. 2102035, December 8, 2021. (IF:16.806, top 18 out of 335 in the field)
Wei Liu, Jinhua Li, Mengqi Cheng, Qiaojie Wang, Kelvin W. K. Yeung*, Paul K. Chu* and Xinquan Jiang*. Zinc-Modified Sulfonated Polyetheretherketone Surface with Immunomodulatory Function for Guiding Cell Fate and Bone Regeneration. Advanced Science, Vol.5(10), Article number 1800749, October 2018. (IF:16.806, top 18 out of 335 in the field)
Jinhua Li, Jin Wen, Bin Li, Wan Li, Wei Qiao, Jie Shen, Weihong Jin, Xinquan Jiang*, Kelvin W. K. Yeung*, and Paul K. Chu*. Valence State Manipulation of Cerium Oxide Nanoparticles on Titanium Surface for Modulating Cell Fate and Bone Formation. Advanced Science, Vol.5(2), Article number 1700678, February 2018. (IF:16.806, top 18 out of 335 in the field)
(*These authors equally shared corresponding authorship and # shared the 1st authorship)
[Updated on 3rd March, 2023]