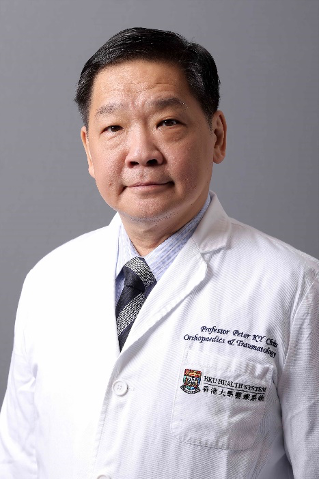 CHIU, Kwong-Yuen Peter 曲廣運
MBBS(HK), FRCS (Edinburgh), FHKCOS, FHKAM (Orthopaedic Surgery)
Li Shu Fan Medical Foundation Professor in Orthopaedic Surgery,
Honorary Consultant Orthopaedic Surgeon
Queen Mary Hospital
Hong Kong Sanatorium and Hospital
Link to HKU Scholars Hub
ORCID iD: 0000-0001-9284-5817
Contact email
Professor Peter Chiu was the Chief of Division of Joint Replacement Surgery from 1997 to 2017. Professor Chiu graduated from the Faculty of Medicine at The University of Hong Kong in 1987. After the internship year, he worked in the Department of Orthopaedics and Traumatology at Queen Mary Hospital as a medical officer in 1988. He joined the University and became a lecturer in 1991, senior lecturer in 1996, subsequently becoming professor in 2006.
Professor Chiu's research work is related to joint diseases. An important part of his research is about osteoarthritis of the knee. His studies show that Asian knees are different from Western knees, the findings have great impacts on the surgical management of Asian patients with advanced knee joint diseases. Professor Chiu also studies the role of subchondral bone in the pathogenesis of osteoarthritis, the application of cartilage repair for earlier diseases, the genetics and epidemiology of osteoarthritis and non-surgical management of knee osteoarthritis. His research works in the hip joint include the pathogenesis and management of avascular necrosis of the femoral head as well as hip replacements for patients suffering from ankylosing spondylitis. His outstanding research in the hip joint and his contributions to hip surgery culminated to his induction into the International Hip Society in 2008.
Professor Chiu is very active in educating young orthopaedic surgeons in the arts and science of joint replacement surgery. He trained over 2,000 surgeons from every part of China in the past 20 years. He has been invited to lecture in different countries for more than 100 times. He has published more than 250 book chapters and peer-reviewed articles.
He has also been the office bearer of many professional bodies, including the founding President of Adult Joint Reconstruction chapter of Hong Kong Orthopaedic Association. He was the President of the Hong Kong college of Orthopaedic Surgeons from 2014 to 2016.
His current clinical focus is on the use of robotic arm assisted technology to perform cementless total knee arthroplasty in the younger and more active patients. He trains surgeons from Hong Kong and China in performing this procedure.
Clinical and Research Interests
Total joint replacement – knee, hip, elbow and shoulder
Osteoarthritis – from basic to clinical.
Significant Publications (Joint Replacement Surgery)
Combination effect of high dose preoperative and periarticular steroid injection in total knee arthroplasty. A randomized controlled study Vincent WK Chan, PK Chan, CH Yan, KY Chiu Journal of Arthroplasty 36:130-134, January 2021
The medial collateral ligament in primary total knee arthroplasty: Anatomy, biomechanics and injury A Cheung, CH Yan, PK Chan, KY Chiu Journal of American Academy of Orthopaedic Surgeons 28(12): e510-e516, June 2020
10-16 year follow up of highly crosslinked polyethylene in total hip replacement: what factors affect wear? A Cheung, CH Yan, H Fu, MH Cheung, PK Chan, KY Chiu Journal of Arthroplasty 34:2016-2021, September 2019
Does barbed suture lower cost and improve outcome in total knee arthroplasty? A randomized controlled trial VWK Chan, PK Chan, KY Chiu, CH Yan, FY Ng Journal of Arthroplasty 32(5):1474-1477, May 2017
Polyethylene insert exchange is crucial in dedridement for acute peri-prosthetic infection following total knee arthroplasty CF Zhang, CH Yan, PK Chan, FY Ng, KY Chiu The Journal of Knee Surgery 30(1):36-41, January 2017
Comparison between patient specific instruments, conventional instruments and computer navigation in total knee arthroplasty – A randomized controlled trial CH Yan, KY Chiu, FY Ng, PK Chan, C Fang Knee Surgery, Sports, Traumatology, Arthroscopy 23(12):3637-45, December 2015
The accuracy of sizing of the femoral component in total knee replacement FY Ng, XF Jiang, WZ Zhou, KY Chiu, CH Yan, MW Fok Knee Surgery, Sports, Traumatology, Arthroscopy 21:2309-2313, October 2013
Distal femoral rotation related to joint obliquity in ACL-deficient Chinese WP Yau, KY Chiu, AWM Fok, CH Yan, FY Ng Clinical Orthopaedics and Related Research 471:1458-64, May 2013
Multimodal periarticular injection versus continuous femoral nerve block following total knee arthroplasty – A prospective, crossover, randomized clinical trial FY Ng, KF Ng, KY Chiu, CH Yan Journal of Arthroplasty 27:1234-1238, June 2012
Cementless total hip arthroplasty specifically designed for Asians: Clinical and radiological results at 10 years C Fang, KY Chiu, WM Tang, D Fang Journal of Arthroplasty 25:873-877, September 2010
Errors in identification of the distal femur transepicondylar and anterior posterior axes in minimal incision TKR and conventional incision TKR – A cadaveric study WP Yau, A Leung, KG Liu, CH Yan, LLS Wong, KY Chiu Journal of Bone and Joint Surgery (British Edition) 90B:520-526, April 2008
Comparison of range of motion after standard and high-flexion posterior stabilised total knee replacement. F. Y. Ng, H. L. Wong, W. P. Yau, K. Y. Chiu, W. M. Tang. International Orthopaedics 32:795-798, December 2008
Comprehensive Preoperative Evaluation of Platelet Function in Total Knee Arthroplasty Patients Taking Diclofenac. Kwok F.J. N, Jean-Claude Lawmin, Carina C.F. Li, Suk F. Tsang, Wai M. Tang, Kwong Y. Chiu. Journal of Arthroplasty 23(3) : 424-430, April 2008
Antibiotic-Loaded Cement Articulating Spacer for 2-Stage Reimplantation in Infected Total Knee Arthroplasty: A simple and economic method. YC Hsu, HC Cheng, TP Ng, KY Chi, Journal of Arthroplasty 22(7):1060-1066, October 2007
Sagittal pelvic rotation and positioning of the acetabular component in total hip arthroplasty: A three-dimensional computer model analysis WM Tang, KY Chiu, MFY Kwan, TP Ng Journal of Orthopaedic Research 25:766-771, June 2007
Sagittal bowing at distal femur and total knee arthroplasty WM Tang, KY Chiu, MFY Kwan, TP Ng, WP Yau Journal of Orthopaedic Research 23:41-45, January 2005
Intraobserver errors in obtaining visually selected anatomic landmarks during registration process in nonimage-based navigation-assisted total knee arthroplasty. A cadaveric experiment WP Yau, A Leung, KY Chiu, WM Tang, TP Ng Journal of Arthroplasty 20:591-601, August 2005
Acetabular revision without cement TP Ng, KY Chiu Journal of Arthroplasty 18:435-441, June 2003
Cementless total hip arthroplasty in young Chinese patients – A comparison of two different prostheses KY Chiu, WM Tang, TP Ng, KC Poon, WY Ho, KM Lee Journal of Arthroplasty 16:863-870, October 2001
Charnley total hip replacement in Chinese patients less than 40 years old KY Chiu, TP Ng, WM Tang, KC Poon, WY Ho, D Yip Journal of Arthroplasty 16:92-101, January 2001
Lower limb alignment in Chinese adults WM Tang, KY Chiu, YH Zhu Journal of Bone and Joint Surgery (American Edition) 82-A:1603-1608, 2000
Significant Publications (Basic Research in Osteoarthritis)
Magnoflorine with hyaluronic acid gel promotes subchondral bone regeneration and attenuates cartilage degeneration in early osteoarthritis Z Cai, Y Feng, C Li, K Yang, T Sun, L Xu, Y Chen, CH Yan, WW Lu, KY Chiu Bone 116:266-278, November 2018
Knocking out of pharmaceutical inhibition of Fatty Acid Binding Protein 4 (FABP4) alleviates osteoarthritis induced by high fat diet in mice CF Zhang, KY Chiu, PMB Chan, T Li, AM Xu, CH Yan Osteoarthritis and Cartilage 26(6):824-833, June 2018
FABP4 as a biomarker for knee osteoarthritis CF Zhang, T Li, KY Chiu, CY Wen, AM Xu, CH Yan Biomarkers in Medicine 12(2):107-118, 2018.
Cartilage degeneration and excessive subchondral bone formation in spontaneous osteoarthritis involves altered TGF-β signaling WW Zhao, T Wang, Q Luo, Y Chen, VYL Leung, CY Wen, MF Shah, HB Pan, KY Chiu, X Cao, WW Lu Journal of Orthopaedic Research 34:763-770, May 2016
Emerging role of endothelin-1 in the osteoblast dysfunction and pathogenesis of osteoarthritis A Sin, W Tang, CY Wen, SK Chung, KY Chiu Osteoarthritis and Cartilage 23(4):516-524, April 2015
Bone loss at subchondral plate in knee osteoarthritis patients with hypertension and type 2 diabetes mellitus CY Wen, Y Chen, HL Tang, CH Yan, WW Lu, KY Chiu Osteoarthritis and Cartilage 27:1716-1723, 2013
Spatial and temporal changes of subchondral bone proceeds to microscopic articular cartilage degeneration in guinea pigs with spontaneous osteoarthritis T Wang, CY Wen, CH Yan, WW Lu, KY Chiu Osteoarthritis and Cartilage 21:574-81, April 2013
Collagen fibril stiffening in osteoarthritic cartilage of human beings revealed by atomic force microscopy CY Wen, CB Wu, B Tang, T Wang, CH Yan, WW Lu, H Pan, Y Hu, KY Chiu Osteoarthritis and Cartilage 20(8):916-22, August 2012