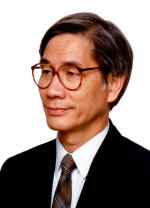 MBBS, LMCC(Canada), FRCS(Edinburgh), FACS(USA), MS(Hong Kong), FHKAM(Orthopaedic Surgery)
Pro Vice Chancellor, The University of Hong Kong
Honorary Consultant, Division of Hand and Foot Surgery
Professor Shew Ping Chow is an orthopaedic surgeon who is currently the Pro-Vice-Chancellor and Vice-President (University Relations) at The University of Hong Kong. He graduated from The University of Hong Kong's Faculty of Medicine in 1968 and joined the Department of Orthopaedic Surgery in 1973 as Lecturer. From 1972 to 1977, he pursued his specialty training in orthopaedic surgery in Hong Kong, United Kingdom, and USA. He advanced to Senior Lecturer, Reader, and eventually Chair Professor in 1990.
Professor Chow is a specialist in the area of upper limb surgery and microsurgery, having over 150 publications in this area. He performed the first successful microsurgical replantation of a severed thumb in Hong Kong in 1977 and his experimental repair of blood vessels of 0.15 mm diameter is still a world record. He has held esteemed positions in many international professional bodies, the latest of which being the President of the Asian Pacific Federation of Societies for Surgery of the Hand, and Founding Editor-in-Chief of the journal "Hand Surgery".
Professor Chow was Dean of the Faculty of Medicine from 1995-1998, during which time he initiated a curriculum reform with far-reaching effect on the whole sector of tertiary education. He was also successful in planning and securing the funding for the new medical complex on Sassoon Road, with consists of state of the art laboratories of world standard. Professor Chow was also Pro-Vice-Chancellor from 2000-2001, taking charge of staffing matters.
Professor Chow has been involved with many voluntary and charity activities. He has worked as a volunteer surgeon in Bangladesh, Africa, Indonesia, Mainland China, and Vietnamese refugee camps in Hong Kong. He is the Honorary President of the Hong Kong Physical Handicapped and Able-Bodied (PHAB) Association, and is involved as advisor to the Salvation Army, Red Cross, and NGO's in special education. He also sits on numerous statutory and non-statutory bodies.
Professor Chow's hobbies are diverse including trail-walks, Chinese painting and music appreciation.
Hand fractures
Artificial finger joints
Spinal cord regeneration
Cerebral palsy upper limb
Hand surgery
Orthopaedic trauma
Representative publications
Intramedullary fixation by resorbable rods in a comminuted phalangeal fracture model. A biomechanical study. P. Roure, W.Y. Ip, W. Lu, S.P. Chow & S. Gogolewski. Journal of Hand Surgery, 24B(4):476-481, 1999.
Biomechanical properties of thin skin flap after basic fibroblast growth factor (bFGF) administration. W.W. Lu, W.Y. Ip, W.M. Jing, A.D. Holmes & S.P. Chow. British Journal of Plastic Surgery, 53:225-229, 2000.
Adhesion formation after nerve repair: An experimental study of early protected mobilization in the rabbit. W.Y. Ip, T. Shibata, F.H. Tang, A.F.T. Mak & S.P. Chow. Journal of Hand Surgery, 25B(6):582-584, 2000.
Open reduction and plate fixation of comminuted fractures of the distal radius. Restoration of articular congruity. A.G. Schneeberger, W.Y. Ip, T.L. Poon & S.P. Chow. Journal of Orthopaedic Trauma, 15(5):350-357,2001.
Palmar plate fixation of AO Type C2 fracture of distal radius using a locking compression plate – A biomechanical study in a cadaveric model. F. Leung, L. Zhu, H. Ho, W. Lu & S.P. Chow. Journal of Hand Surgery, 28B(3):263-266, 2003.
Effect of torsion on microvenous anastomotic patency in a rat model and early thrombolytic phenomenon. S.S. Bilgin, M. Topalan, W.Y. Ip & S.P. Chow. Microsurgery, 23:381-386, 2003.
A prospective randomized trial comparing the limited contact dynamic compression plate with the point contact fixator for forearm fractures. F. Leung & S.P. Chow. Journal of Bone & Joint Surgery, 85A(12):2343-2348, 2003.
Limited open reduction and Ilizarov external fixation in the treatment of distal tibial fractures. F. Leung, H.Y. Kwok, T.S. Pun & S.P. Chow. Injury, 35:278-283, 2004.
Treatment of distal femoral fractures in the elderly using a less-invasive plating technique. M.K. Wong, F. Leung & S.P. Chow. International Orthopaedics, 29:117-120, 2005.
A novel artificial prosthetic replacement for the proximal interphalangeal joint of the hand – From concept to prototype. S.P. Chow, K.W. Lam, I. Gibson, A.H.W. Ngan, W. Lu, W.Y. Ip & K.Y. Chiu. Hand Surgery, 2005. (In-press)