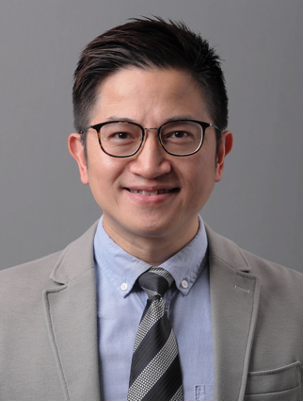 Leung, Yu-Leong Victor 梁宇亮
PhD (HKU), BSc (Hons)
Assistant Professor
Department of Orthopaedics & Traumatology
The University of Hong Kong
Director, Intervertebral Disc Biology & Regenerative Engineering Research
Dr. Leung received Ph.D. in molecular and developmental genetics in The University of Hong Kong and later training in Rush Medical College and University of Pittsburgh School of Medicine, specializing in spine biology and regeneration. He joined The University of Hong Kong as faculty and was appointed as the Director of the Intervertebral Disc Biology & Regenerative Engineering Program. He was the recipient of 2010 Webster Jee Young Investigator Award of the International Chinese Musculoskeletal Research Society, and a standing member of the Stem Cell and Regenerative Medicine Consortium, and Centre for Reproduction, Development and Growth of HKU. He has been an active member and served in the committee of the Orthopedic Research Society. Current research interests include understanding the inflammation and fibrosis pathways in intervertebral disc degeneration and other joint diseases; understanding gene function in disc development and homeostasis; discovery of novel biologics to modify joint degeneration; engineering progenitors or harnessing their activity to restore skeletal function; and regulation of circadian rhythm in chondrocytes.
M.Phil. and Ph.D. research projects are available in the following areas:
Modelling of inflammation-induced cellular program in joint degeneration
Establishing a novel transgenic mouse model with human-like vertebral joint degeneration
Understanding the mechanism of joint regeneration mediated by novel small molecule therapeutics
Regulation of fibrogenesis in joint diseases
Intervertebral disc cell and progenitor bioengineering
Au TY, Lam TK, Peng Y, Wynn SL, Cheung KM, Cheah KS, Leung VY. Transformation of resident notochord-descendent nucleus pulposus cells in mouse injury-induced fibrotic intervertebral discs. (2020) Aging Cell. Nov;19(11):e13254. doi: 10.1111/acel.13254.
Zhang Y, Zhang Z, Chen P, Ma CY, Li C, Au TYK, Tam V, Peng Y, Wu R, Cheung KMC, Sham PC, Tse HF, Chan D, Leung VY, Cheah KSE, Lian Q. (2020) Directed Differentiation of Notochord-like and Nucleus Pulposus-like Cells Using Human Pluripotent Stem Cells. Cell Rep. Feb 25;30(8):2791-2806.e5. doi: 10.1016/j.celrep.2020.01.100.
Lv F, Cheung KM, Zheng Z, Wang H, Sakai D, and Leung VY. Intervertebral Disc Stem/ Progenitor Cells: A New Horizon For Understanding Disc Homeostasis And Repair. Nat Rev Rheumatol (2019) Feb;15(2):102-112
Leung VY, Zhou L, Tam WK, Sun Y, Lv F, Zhou G, and Cheung KM. Bone morphogenetic protein -2 and -7 mediate the anabolic function of nucleus pulposus cells with discrete mechanisms. Connect Tissue Res (2017) 19:1-13.
Lv FJ, Peng Y, Lim FL, Sun Y, Lv M, Zhou L, Wang H, Zheng Z, Cheung KM, and Leung VY. Matrix metalloproteinase 12 is an indicator of intervertebral disc degeneration co-expressed with fibrotic markers. Osteoarthritis Cartilage (2016) 24: 1826-1836
Sun Y, Lv M, Zhou L, Tam V, Lv F, Chan D, Wang H, Zheng Z, Cheung KM, and Leung VY. Enrichment of committed human nucleus pulposus cells expressing chondroitin sulfate proteoglycans under alginate encapsulation. Osteoarthritis Cartilage (2015) 23(7):1194-203.
Lee JT, Cheung KM, and Leung VY. (2015) Systematic study of cell isolation from bovine nucleus pulposus: Improving cell yield and experiment reliability. J Orthop Res 33, 1743-1755
Leung VY*, Aladin DM*, Lv FJ, Tam V, Sun Y, Lau RY, Hung SC, Ngan AH, Tang B, Lim CT, Wu EX, Luk KD, Lu WW, Masuda K, Chan D, Cheung KM. Mesenchymal stem cells reduce intervertebral disc fibrosis and facilitate repair. Stem Cells (2014) doi: 10.1002/stem.1717. (*co-first author)
Huang S*, Leung VY*, Long D, Chan D, Lu WW, Cheung KM, Zhou G. Coupling of small leucine-rich proteoglycans to hypoxic survival of a progenitor cell-like subpopulation in Rhesus Macaque intervertebral disc. Biomaterials (2013) 34(28):6548-58. (*co-first author)
Leung VY, Gao B, Dung NWF, Leung KKH, Wynn SL, Niewiadomska RA, Lau JYB, Chan D, Cheah KSE. SOX9 Governs Differentiation Stage-Specific Gene Expression in Growth Plate Chondrocytes via Direct Concomitant Transactivation and Repression. PloS Genetics (2011) 11:e1002356.
Active RGC/External Projects
| | | |
| --- | --- | --- |
| Project Title | Funding Source | Award year |
| Establishing a genetically inducible human-like lumbar disc degeneration model in mice | General Research Fund | 2020 |
| Inflammation induced cell dedifferentiation program in vertebral joint degeneration | General Research Fund | 2019 |
| Target identification of a novel small molecule capable of modifying intervertebral disc degeneration | Innovation and Technology Fund -MRP | 2018 |
| Degraded biglycan products as fibrosis regulator in the pathomechanism of joint degeneration | General Research Fund | 2018 |
Post-doctoral Fellows

Research Postgraduates

Undergraduates/Interns
Sanchal Sanchayyan
Chris Chan

Technical staff
Email: vicleung@hku.hk
Tel: (852) 3917 6985
Fax: (852) 2818 5210
Office: L9-12, 9/F, Laboratory Block, 21 Sassoon Road, Pokfulam, Hong Kong