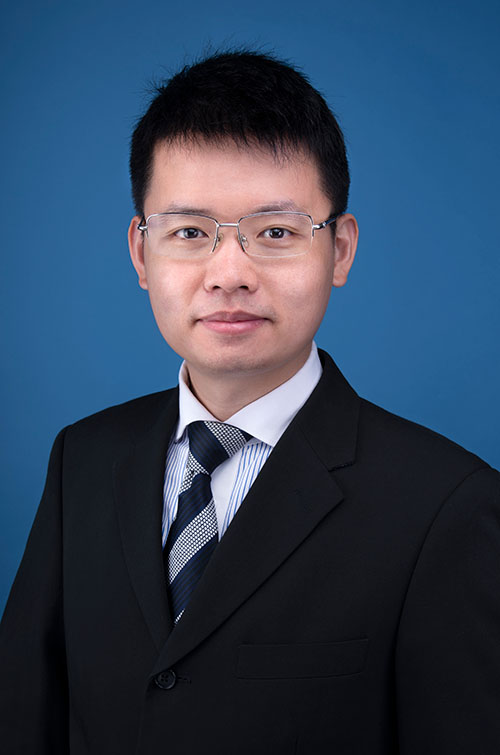 MBBS (HK), MRCSEd, MMedSc(HK), FRCS (Edin), FHKCOS, FHKAM(Orthopaedic Surgery)
Deputy Chief, Division of Joint Replacement Surgery, Queen Mary Hospital
Clinical Assistant Professor, Department of Orthopaedics and Traumatology, School of Clinical Medicine, The University of Hong Kong
Director, Joint Replacement Centre, Hong Kong West Cluster Joint Replacement Centre
Honorary Associate Consultant, Department of Orthopaedics and Traumatology, Queen Mary Hospital
Dr Henry FU is a full-time joint replacement surgeon now serving as the deputy chief in the Division of Joint Replacement Surgery and Director of Hong Kong West Cluster Joint Replacement Centre.
Dr Fu graduated from the University of Hong Kong in 2008. He received his orthopaedic training in Queen Mary Hospital after his internship, obtaining his Masters of Medical Science degree from the University of Hong Kong in 2012 and Fellowship of Royal College of Surgeons of Edinburgh in 2015.
Dr Fu is now one of a handful of national experts in computer assisted hip and knee surgery. He received formal training in world renown hospitals including Hospital for Special Surgery (NY, USA), Rothman Institute (PA, USA) and Massachusetts General Hospital (MA, USA) specifically in robotic surgery. Upon returning from training, Dr Fu set up the robotic joint replacement service in Queen Mary Hospital by securing a donation of HK$15 million to acquire the Mako robotic arm surgical system. Having performed over 300 robotic hip and knee replacements, he is currently one of only three certified robotic surgery trainers in Hong Kong and has taught over 100 surgeons both locally and internationally to use robotic surgery. Dr Fu is now the chairman of the East Asia advisory board for robotic hip replacement and receives territory wide referrals for robotic hip and knee replacement for complex deformities.
Dr Fu is now the Director of DKCH Joint Replacement Centre where over 350 joint replacement operations are performed every year using enhanced recovery protocol where 90% of patients can be discharged 3 days from surgery. He is honorary associate consultant at Queen Mary Hospital and a trainer of the Hong Kong College of Orthopaedic Surgeons.
Dr Fu received the Young Achiever Award from Hospital Authority and Distinguished Young Fellow Award from the Hong Kong College of Orthopaedic Surgeons in recognition for his outstanding leadership of the Joint Replacement Centre, excellent surgical outcomes and commitment to utilizing cutting edge technology to improve patient care.
Special Expertise and Research Interests
Robotic assisted hip and knee joint replacement
Complex primary total hip replacement with robotic arm assistance- ankylosing spondylitis with hip fusion, high hip dysplasia
Revision hip and knee replacement
Young Achiever Award, Hospital Authority Outstanding Staff & Teams Award and Young Achievers Award
Distinguished Young Fellow of the Hong Kong College of Orthopaedic Surgeons, Hong Kong Academy of Medicine
Hong Kong Orthopaedic Association young ambassador at the New Zealand Orthopaedic Association Annual Scientific Meeting, Dunedin (2019
Team Leader, Hong Kong West Cluster Outstanding Team Award, Hospital Authorities- Comprehensive Osteoarthritis Management Team "Transforming Pain into Happiness in Patients with Osteoarthritis"
Arthur Yau Award for Outstanding Paper at the 38th Annual Congress of the Hong Kong Orthopaedic Association "Joint line restoration and alignment after conventional versus robotic unicompartmental knee arthroplasty"
Hong Kong Orthopaedic Association young ambassador at the 40th Annual Meeting of Royal College of Orthopaedics Surgeons of Thailand, Pattaya
Asia Pacific Orthopedics Association (APOA) Young Ambassador Award
HK$ 15 million from Tam Shiu Charitable Trust for acquisition of Mako robotic arm surgical system for the Department of Orthopaedics and Traumatology, Queen Mary Hospital
Navio Robotic Unicompartmental Knee Replacement
International CAOS symposium for Commemoration of 1000 Robodoc TKA,
South Korea. Sept 2017
Robotic Assisted Joint Replacement
Conjoint Symposium of HKOA AJR Chapter and Young Surgeons Alliance, Wu Jieping Medical Foundation,
Shenzhen, China. Feb 2018
Recent Advances in Joint Replacement Surgery
14th Hong Kong International Orthopaedic Forum
Hong Kong. Apr 2018
Robotic Assisted Unicompartmental Knee Replacement
The University of Hong Kong- Shenzhen Hospital (HKU-SZH) Joint Elite Symposium
Shenzhen, China. Apr 2019
Mako Robotic Arm Assisted Total Hip Replacement
The 2nd Guangdong Hong Kong Macao Greater Bay Area Orthopaedic Forum
Macao. Sept 2019
Robotic Joint Replacement Surgery: Accuracy, Precision and Longevity
Hong Kong Academy of Medicine Conference & Hong Kong Primary Care Conference 2019
Hong Kong, Dec 2019
Total Hip Replacement in Developmental Dysplasia of the Hip- Modern Solutions for the Old Problem (High DDH)
Hong Kong Orthopaedic Association Adult Joint Reconstruction Chapter Summer Zoom Meeting Jun 2020
Orthopaedic Crossfire: Robotic total hip arthroplasty is better than conventional total hip arthroplasty (affirmative)
Hong Kong Orthopaedic Association 40th Annual Congress Adult Joint Reconstruction Chapter Concurrent Session, Nov 2020
Robotic surgery: Myths and Reality
Asia Pacific Orthopaedic Association- Young Surgeon's Forum India Chapter, Mar 2021
Technologies in Knee Arthroplasty- Conventional, Navigation, PSI, Robotics, What's Next?
Specialty Day in Adult Joint Reconstruction- Primary Knee Arthroplasty Module, Hong Kong College of Orthopaedic Surgeons. Mar 2021
HKU Robotic Arm Assisted Arthroplasty User Sharing Forum


Course Chairman. The University of Hong Kong. December 2021

HKU Robotic Arm Assisted Arthroplasty Cadaveric Certification Course


Course Chairman. The University of Hong Kong. July 2021, June 2022

Stryker Mako Robotic Arm Assisted Total Hip Arthroplasty In Surgery Certification Course


Chairman. Stryker Corporation. June 2022, July 2022