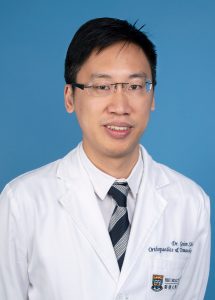 MBBS, PhD, FRCSEd (O&T)
Clinical Assistant Professor
Link to HKU Scholars Hub
ORCID iD: 0000-0003-3480-371X
Contact email
Dr Graham Shea graduated from the University of Hong Kong as a member of the first cohort of candidates recruited to the combined MBBS / PhD programme.  After completing his internship, he joined the Department of Orthopaedics and Traumatology as Clinical Assistant Professor and Resident under the Croucher Foundation Scheme for Young Clinical Academics.  He received his FRCSEd (O&T) in 2019 and has a post-fellowship clinical and research interest in spine surgery and regenerative medicine. 
Basic / clinical studies on the pathophysiology and treatment of cervical spondylotic myelopathy
Use of artificial intelligence for prognostication of spinal disorders
Ontogeny and application of bone marrow-derived neural progenitors towards cell therapy
Application of chondroitinase ABC to treat chronic wounds
Projects in the above areas are available for research postgraduate students and postdoctoral fellows who are highly motivated individuals. A background in molecular biology, biomaterials and drug delivery is preferred for ongoing basic science projects.  Enthusiastic and committed candidates are encouraged to contact me via email.
Representative publications
Regenerative Medicine
Changmeng Z, Hongfei W, Cheung MC, Chan YS, Shea GK. Revealing the developmental origin and lineage predilection of neural progenitors within human bone marrow via single-cell analysis: implications for regenerative medicine. Genome Med. 2023 4;15(1):66.
Kim HW, Yong H, Shea GKH. Blood-spinal cord barrier disruption in degenerative cervical myelopathy. Fluids Barriers CNS. 2023 25;20(1):68.
Shea GK, Tai EW, Leung KH, Mung AK, Li MT, Tsui AY, Tam AK, Shum DK, Chan YS. Juxtacrine Signalling via Notch and ErbB Receptors in the Switch to Fate Commitment of Bone Marrow-derived Schwann Cells. Eur J Neurosci. 2020 52(5):3306-3321
Lau YT, Kwok LF, Tam KW, Chan YS, Shum DK, Shea GK. Genipin-treated chitosan nanofibers as a novel scaffold for nerve guidance channel design. Colloids Surf. B 2018 162: 126-134
Cai S, Tsui YP, Tam KW, Shea GK, Chang RS, Ao Q, Shum DK, Chan YS. Directed Differentiation of Human Bone Marrow Stromal Cells to Fate-Committed Schwann Cells. Stem Cell Reports 2017 9:1097-1108.
Mung KL, Tsui YP, Tai EW, Chan YS, Shum DK, Shea GK. Rapid and efficient generation of neural progenitors from adult bone marrow stromal cells by hypoxic preconditioning. Stem Cell Res Ther 2016 7:146.
Clinical spine surgery
Wang H, Zhang T, Zhang C, Shi L, Ng SY, Yan HC, Yeung KC, Wong JS, Cheung KM, Shea GK. An intelligent composite model incorporating global / regional X-rays and clinical parameters to predict progressive adolescent idiopathic scoliosis curvatures and facilitate population screening. EBioMedicine. 2023 95:104768.
Yick VHT, Zhang C, Wong JSH, Ng SYL, Wong NST, Wang H, Koljonen PA, Shea GKH. Neurological Survivorship Following Surgery for Degenerative Cervical Myelopathy: A Longitudinal Study on 195 Patients. J Bone Joint Surg Am. 2023 105(3):181-190.
Yu SH, Ng CM, Cheung JP, Shea GK. Post-Maturity Progression in Adolescent Idiopathic Scoliosis Curves of 40° to 50°. J Bone Joint Surg Am. 2023 105(4):277-285.
Shea GKH, Zhang C, Suen WS, Cheung PWH, Cheung JPY, Maatta J, Karppinen J, Samartzis D. Oral Zoledronic acid bisphosphonate for the treatment of chronic low back pain with associated Modic changes: A pilot randomized controlled trial. J Orthop Res. 2022 40(12):2924-2936.
Zhang C, Lee VKH, Yu JML, Cheung JPY, Koljonen PA, Shea GKH. Length of Cervical Stenosis, Admission ASIA Motor Scores, and BASIC Scores Are Predictors of Recovery Rate Following Central Cord Syndrome. Spine. 2022 47(3):212-219.
Wang H, Zhang T, Cheung KM, Shea GK. Application of deep learning upon spinal radiographs to predict progression in adolescent idiopathic scoliosis at first clinic visit. EClinicalMedicine. 2021 29;42:101220.