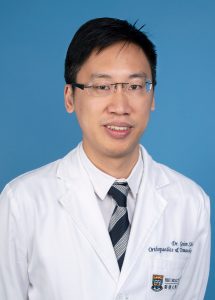 MBBS, PhD
Clinical Assistant Professor
Link to HKU Scholars Hub
ORCID iD: 0000-0003-3480-371X
Contact email
Dr Graham Shea graduated from the University of Hong Kong in 2012 as a member of the first cohort of candidates recruited to the combined MBBS / PhD programme. His doctoral thesis was undertaken at the Department of Biochemistry in the field of regenerative medicine. After completing his internship, he joined the Department of Orthopaedics and Traumatology as Clinical Assistant Professor and Resident under the Croucher Foundation Scheme for Young Clinical Academics.
Spinal cord injury
Peripheral nerve injury
Stem / progenitor cell differentiation
Glial cell transplantation for neural regeneration
Projects in the above areas for Final Year Project students, MPhil and PhD candidates are available together with studentships for high-achieving individuals. Enthusiastic and committed students are encouraged to contact me via email.
Representative publications
Shea GK, Tsui AY, Chan YS, Shum DK. (2010). Bone marrow-derived Schwann cells achieve fate commitment–a prerequisite for remyelination therapy. Exp Neurol 224:448-58.
Cai S, Shea GK, Tsui AY, Chan YS, Shum DK. (2011). Derivation of clinically applicable schwann cells from bone marrow stromal cells for neural repair and regeneration. CNS Neurol Disord Drug Targets 10:500-8.
Mung KL, Tsui YP, Tai EW, Chan YS, Shum DK, Shea GK. (2016). Rapid and efficient generation of neural progenitors from adult bone marrow stromal cells by hypoxic preconditioning. Stem Cell Res Ther 7:146.
Tsui YP, Mung AK, Chan YS, Shum DK, Shea GK. (2017). Hypoxic Preconditioning of Marrow-derived Progenitor Cells As a Source for the Generation of Mature Schwann Cells. J Vis Exp. 14;(124)
Cai S, Tsui YP, Tam KW, Shea GK, Chang RS, Ao Q, Shum DK, Chan YS. (2017). Directed Differentiation of Human Bone Marrow Stromal Cells to Fate-Committed Schwann Cells. Stem Cell Reports 9:1097-1108.
Lau YT, Kwok LF, Tam KW, Chan YS, Shum DK, Shea GK. (2018). Genipin-treated chitosan nanofibers as a novel scaffold for nerve guidance channel design. Colloids Surf. B 162: 126-134
Shea GK, Wu KL, Li IW, Leung MF, Ko AL, Tse L, Pang SS, Kwan KY, Wong TM, Leung FK, Fang CX. (2020) A review of the manufacturing process and infection rate of 3D-printed models and guides sterilized by hydrogen peroxide plasma and utilized intra-operatively. 3D Print Med. 30;6(1):7
Shea GK, Tai EW, Leung KH, Mung AK, Li MT, Tsui AY, Tam AK, Shum DK, Chan YS (2020). Juxtacrine Signaling via Notch and ErbB Receptors in the Switch to Fate Commitment of Bone Marrow-derived Schwann Cells. Eur J Neurosci. doi:10.1111/ejn.14837