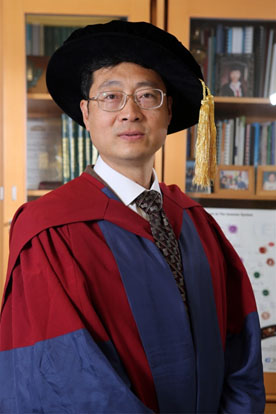 Ph.D, MHKIE
Professor, Ng Chun-Man Professor in Orthopaedic Bioengineering
Division Chief, Orthopaedic Research Center
Chairman, Research & High Degree Committee
Link to HKU Scholars Hub
ORCID iD: 0000-0002-5780-2886
Contact email
Professor Lu obtained his PhD degree from the University of Waterloo, Canada, in 1994, earning the "Distinguished Graduate Award." In 1995 he joined the Department of Orthopaedics & Traumatology at the University of Hong Kong (HKU) as an Assistant Professor (non-clinical) and established the Orthopaedic Research Centre, where he has served as director to the present day. In 2001 he was promoted to the position of Associate Professor and was named a full Professor in 2009. Professor Lu specializes in the areas of orthopaedic biomechanics, biomaterials, and bionanotechnology as well as clinical bioengineering teaching and research. At HKU he is a key faculty member in the university's Strategic Research Areas in Biomedical Engineering and Nano-biotechnology. Internationally, he has achieved substantial recognition in the field of bioengineering and is widely acknowledged as one of the top 1% scholars (2009-2013) according to ISI's Essential Science Indicators. He has been invited to hold honorary and visiting professor positions and has conducted open lectures in more than 40 internationally recognised universities, including the Department of Bioengineering, Columbia University; the Orthopedic Research Center, Department of Orthopaedics, Harvard Medical School, and the Biomedical Engineering and Research Center, University of British Columbia, Canada. He is devoted to teaching, having supervised 32 MPhil and Ph.D students and served on Faculty Higher Degrees Committee for the last 6 years.
Professor Lu has consistently secured significant funding for innovative research, including HK$47 millions in Hong Kong and $RMB20 million in PR China from a number of major funding bodies. He holds a number of patents for his innovations and has published more than 220 papers in international peer reviewed journals, with more than 3100 citations. Among the many honors and awards received by Professor Lu are the "Moe Basic Science Award" from the Scoliosis Research Society in 2003; the "Young Investigator Award" from the international journal Spine in 2004; and the "Best Oral Presentation Prize" (2003 and 2008) at the SICOT Triennial World Congress, the largest global society of orthopaedic surgeons with 4,000 members from more than 100 countries.
Professor Lu was nominated to serve as an international conference chairman or conference committee member on more than 40 occasions, including his recent appointment as the Chairman of the Hong Kong International Conference on Biomedical Engineering (BME 2010) and as the Basic Science Committee Chairman of the SICOT 2008 Triennial World Congresses. He serves as a member of editorial boards and as a reviewer for more than 16 international and local journals, holding the position of Editorial Board Member of The Journal of Bone and Mineral Research (published by the American Society for Bone and Mineral Research and the highest-ranked journal in the field), as well as Associate Editor for the Orthopedic Journal of China.
Orthopaedic Biomechanics, design, development and evaluation of implant and fixations.
Development, evaluation, and clinical trials of biomaterials.
Micro and Nano biomechanics.
Bioengineering for clinical applications.
Degenerative Bone, Disc and Joints Research
Osteoporotic bone fractures
Representative publications
Li, Z, Peng, S, Pan, H, Tang, B, Lam, RWM, Lu, WW. Microarchitecture and nanomechanical properties of trabecular bone after strontium administration in osteoporotic goats. Biological Trace Element Research, 2012, v. 145 n. 1, p. 39-46
Peng SL, Liu XS, Li ZY, Zhou GQ, Luk KDK, Guo XE*. Osteoprogeterin deficiency attenuates strontium-mediated inhibition of osteoclastogenesis and bone resorption J Bone Miner Res, 2011 Jan 4, PMID: 21207481
Lam WM, Pan HB, Fong MK, Cheung WS, Wong KL, Li ZY, Luk KD, Chan WK, Wong CT, Yang C, Lu WW* In Vitro characterization of low modulus linoleic acid coated strontium-substituted hydroxyapatite containing PMMA bone cement. J Biomed Mater Res B Appl Biomater. 2011 Jan;96(1):76-83.
Aladin DM, Cheung KM, Ngan AH, Chan D, Leung VY, Lim CT, Luk KD, Lu WW* Nanostructure of collagen fibrils in human nucleus pulposus and its correlation with macroscale tissue mechanics. J Orthop Res. 2010 Apr;28(4):497-502.
Liu WC, Wong CT, Fong MK, Cheung WS, Kao RY, Luk KD, Lu WW*, "Gentamicin-loaded strontium-containing hydroxyapatite bioactive bone cement–an efficient bioactive antibiotic drug delivery system. J Biomed Mater Res B Appl Biomater. 2010 95(2):397-406
Wu X, Pang L, Lei W, Lu W, Li J, Li Z, Frassica FJ, Chen X, Wan M, Cao X: Inhibition of Sca-1-positive skeletal stem cells recruitment by alendronate blunts the anabolic effects of parathyroid hormone on bone remodeling, Cell Stem Cell 2010, 7:571-580
Cao X, Wu X, Frassica D, Yu B, Pang L, Xian L, Wan M, Lei W, Armour M, Tryggestad E, Wong J, Wen CY, Lu WW, Frassica FJ.Irradiation induces bone injury by damaging bone marrow microenvironment for stem cells. Proc Natl Acad Sci U S A. 2011 Jan 25;108(4):1609-14.
H.B. Pan, X.L. Zhao, B.W. Darvell, W.W. Lu*, "Apatite-formation ability – predictor of "bioactivity"?" Acta Biomater 2010; 6 (11): 4181-4188
Li ZY, Lu WW*, Lam WM, Yang C, Xu B, Ni GX, Abbah SA, KMC Cheung, KDK Luk. Chemical composition, crystal size and lattice structural changes after incorporation of strontium into biomimetic apatite. Biomaterials 2007;28(7):1452-1460.
Lu WW*, Luk KDK, Qiu GX, Cheung KCM, Lin Y, Wong YW, Leong JCY. 2004. Microfracture and changes in energy absorption to fracture of young vertebral cancellous bone following physiological fatigue loading. Spine. 29(11)