Division of Joint Replacement Surgery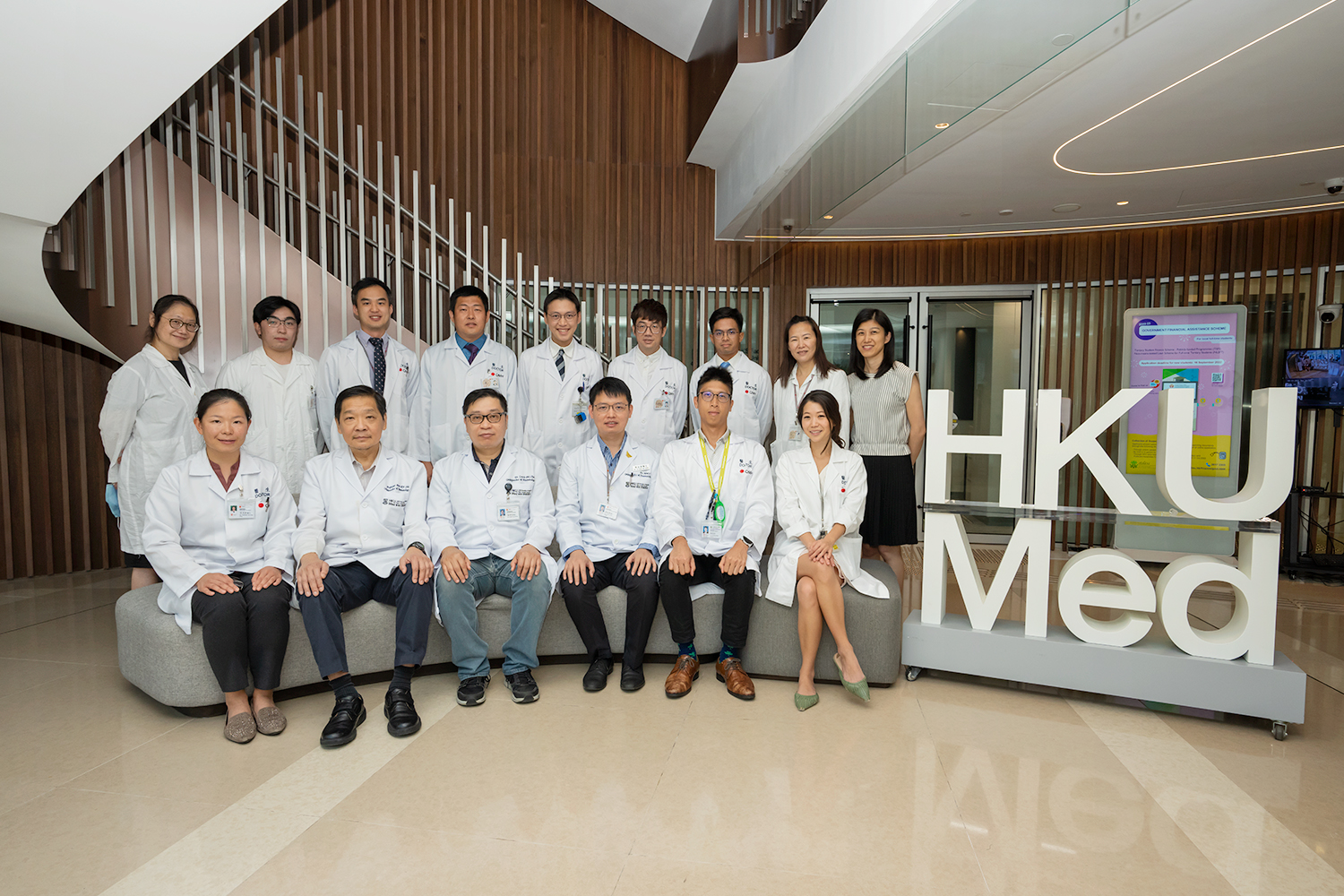 Joint replacement service started with the hip in the 1970s using Charnley cemented prosthesis, and then the porous-coated PCA and AML prostheses in the 1980s. In the early 1990s, a CT osteometric study performed by Dr. David Fang showed a significant difference in Asian upper femoral shape, compared with Caucasians, and this led to the development of our own porous coated prosthesis, the "Asian femoral stem", in association with Biomet. We were also the first in Hong Kong to start using the hydroxyapatite-coated prostheses in the early 1990s. Today we use cementless components for most patients on the acetabular side, whereas on the femoral side we use an uncemented femoral component if the medullary canal is too narrow and incompatible with an adequate cement mantle. Otherwise, we insert a femoral component with modern cementing techniques – because of our finding that 85 percent of Charnley femoral components in Chinese patients younger than 40 show no loosening after an average follow-up of 15 years. The division was one of the first centres to use ceramic-ceramic articulation, highly crosslinked polyethylene and large diameter (36mm) hip balls in Hong Kong.
While osteoarthritis of the hip in Chinese is rare and accounts for less than 10 per cent of our total hip replacements, osteoarthritis of the knee is very common and accounts for about 80 per cent of our total knee replacements. Knee joint replacement became common in the 1980s, using cruciate-retaining PCA and posterior-stabilized Insall-Burstein prostheses. From 1998 to 2002, we changed to the rotating-platform prostheses. Due to our experience with the latter, we were invited to co-ordinate a multi-national, multi-centre prospective clinical study on the outcomes of rotating-platform total knee prosthesis in Asian patients. Today the rotating-platform knee is still our prosthesis of choice, but we also use many other designs, especially those that may result in increased flexion range, which is an important issue in Asian patients. The division was one of the first centres to do computer assisted total knee replacements in Hong Kong, and has researched and published extensively in this regard.
With an ageing population and an increasing acceptance of joint resurfacing by patients, we have seen a progressive growth in the number of surgeries we are performing. As a result, the current waiting list for joint replacement is more than 3 year with over 700 patients in the queue.
The division has two full day operating lists a week. Six to eight joint replacement operations are done each week. The ratio of primary total knee replacements to primary total hip replacements is about 3 to 1. About 40% of total hip replacements and 5 to 10% of total knee replacements are revision operations. Aside from hip and knee replacements, elbow and shoulder replacements are also performed. The most common indication is severe rheumatoid arthritis. About 10 to 15 such procedures are performed each year.
The division holds two general clinics a week to take care of arthritic patients who opt for conservative treatment. In addition, the division holds two joint replacement clinics a week to follow-up all joint replacement patients indefinitely. Every patient has detailed clinical, radiographic and quality of life assessments at the follow-up visits. We also hold preoperative assessment clinics together with the anesthestists and nurses to ensure maximal preoperative preparation and education.
Overall, joint replacement surgery has made significant progress over the past 10 years. We were one of the first to formally become a subspecialty division within the department in 1997. Even before this time, in 1996 a comprehensive database of joint replacement surgery was established to catalogue cases, both prospectively and retrospectively, using standardized charts. In 1999, a collaborative centre on joint replacement surgery was formed with Yantai Shan Hospital, Yantai, Shandong -promoting training and research in this field in mainland China. Similar arragngements were also established with Xinjiang Uygur Autonomic Region Hospital in Urumqi, Xinjiang, Zhengzhou Orthopaedic Hospital in Zhengzhou, Henan and Guangzhou Medical College First Affiliated Hospital in Guangzhou, Guangdong. Education of Chinese orthopaedic surgeons was further strengthened in 2001 with the introduction of training courses in Hong Kong. Initially they were held two to four times a year, but now there are 12 to 14 courses a year. To cope with increasing demand for revision joint surgery, the division recently purchased specialised equipment including the Midas Rex (HK$800,000), Ultradrive (HK$700,000) and Orthoclast (HK$350,000).
Having established a firm base from clinical service, the division aims to expand by strengthening ties and promoting evidence-based research, both locally and regionally, and embark on basic research projects related to joint replacement surgery.
The three clinicians within the division actively pursue research in both basic and clinical areas. They are assisted by postgraduate students, clinical fellows and two research assistants.
As a result of its firm clinical base, the division is frequently approached by pharmaceutical and orthopaedic companies to participate in clinical trials in new drugs for osteoarthritis, and new joint prostheses. Thus, apart from funding granted by the Research Grants Council of Hong Kong (such as the HK$1.1 million in 1995 to support study of "bone remodelling after uncemented total hip replacement using dual energy X-ray absorptiometry") and several grants from HKU's Committee on Research and Conference Grants, the division receives support from numerous external sources. This includes HK$1.5 million industrial sponsorship to co-ordinate a prospective multicentre study on total knee replacement in Asian patients, and HK$400,000 from Hong Kong Baptist University for a collaborative study on the use of Traditional Chinese Medicine in the treatment of knee osteoarthritis. The division also acquires the RadioStereometric Analysis (RSA) system for the research on the use of bioactive cement in total hip replacement (supported by the Innovation and Technology Fund).
Basic
Lower limb alignment in Chinese adults
Posterior slope of tibial plateau in Chinese adults
Mechanical properties of bone cement
A rabbit model of periprosthetic osteolysis
Evaluation of the anteroposterior bowing of the femur and its effect on total joint replacement
Clinical
Long term results of total hip replacement in patients with ankylosing spondylitis
Long term results of Charnley total hip arthroplasty in young Chinese patients
Comparison of two cementless total hip prostheses in young Chinese patients
Results of cementless acetabular revision
Long-term results of posterior-stabilized total knee replacement in rheumatoid arthritis
Projects (ongoing)
Osteoarthritis
Avascular necrosis
Osteometric differences in the hip and the knee
The use of bioactive bone cement in total hip replacement
The effect of hip ball diameter on the stability of total hip replacement
Sagittal pelvic malrotation in patients with ankylosing spondylitis
The division organizes 12 to 14 4-day courses on arthroplasty each year for surgeons from Mainland China. Since 2001, the division has hosted more than 60 courses and 600 surgeons from various parts of China have attended such course.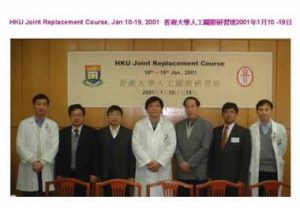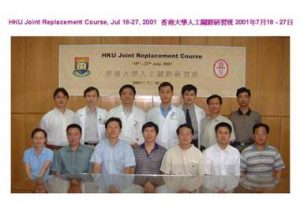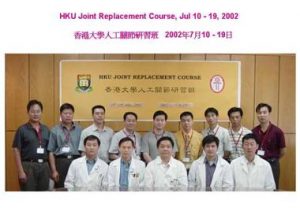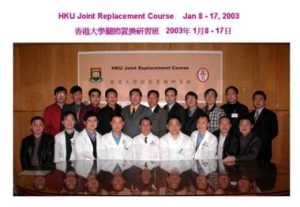 Symposium on Joint Replacement Surgery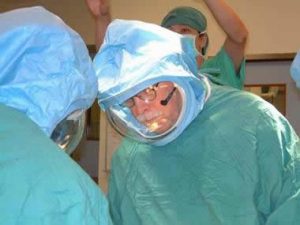 Richard (Dickey) Jones from Texas, USA on October 16, 2001 (Tuesday)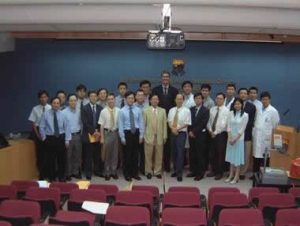 Thomas P Schmalzreid from Los Angeles, CA, USA on June 1, 2001 (Friday)