Division of Orthopaedic Oncology and Limb Salvage Surgery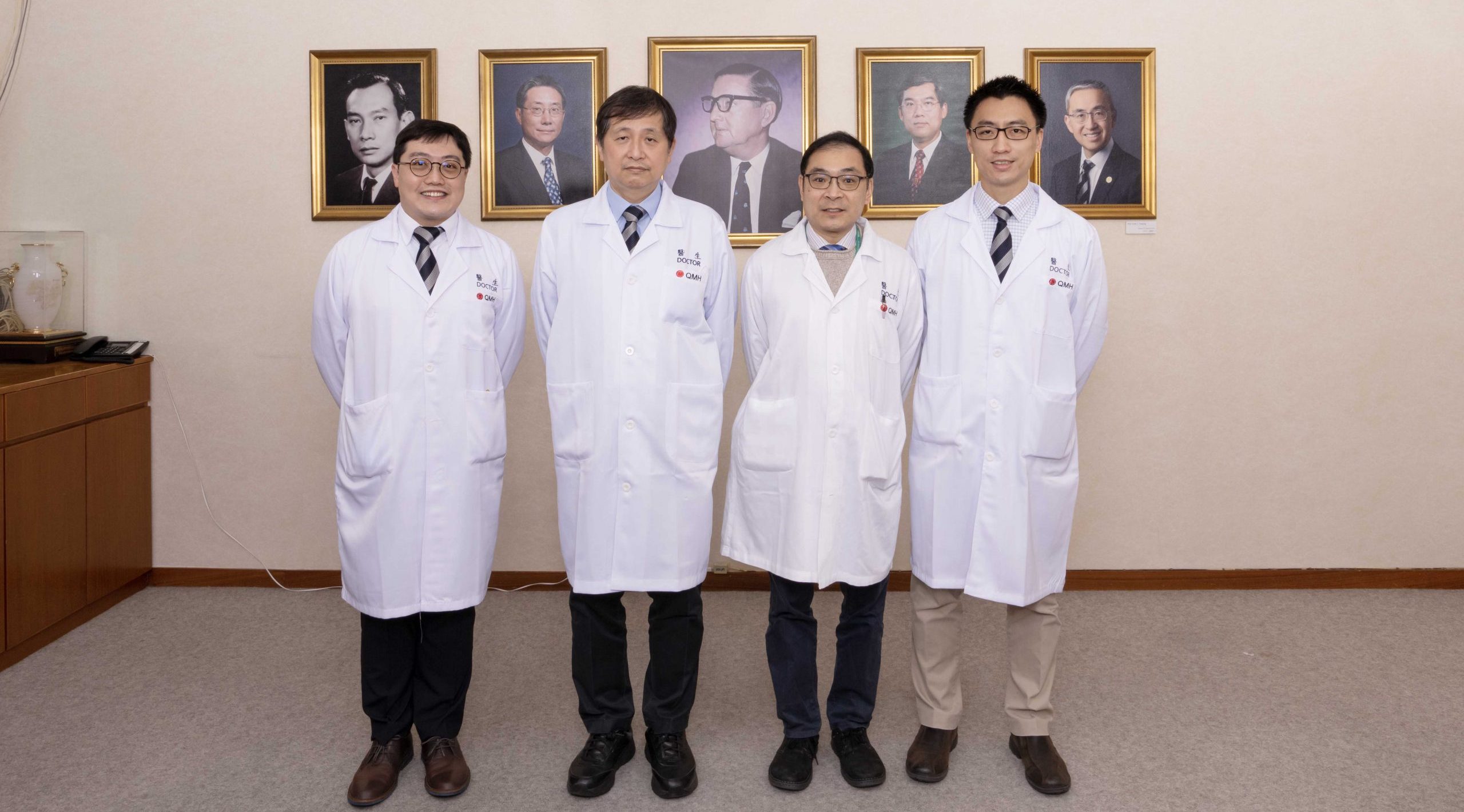 Dr. LAM, Ying Lee (Division Chief, Consultant, Honorary Associate Professor)
Dr. HO, Wai Yip Kenneth (Deputy Division Chief, Consultant, Honorary Associate Professor)
Dr. YAU, Ching Hin Raymond (Associate Consultant, Honorary Assistant Professor)
Dr. LEUNG, Siu Ming Anderson (Resident specialist, Honorary Assistant Professor)
Dr. TAM, Pok Him (Medical Officer, Honorary Assistant Professor)
The Division of Orthopaedic Oncology and Limb Salvage Surgery (OLS) was formally established on the 1st March 2023. However, the development of musculoskeletal tumour surgery at Queen Mary Hospital predates 2000, when the Hospital Authority recognized our unit as one of only 3 musculoskeletal tumour centres in Hong Kong.
Over the past 20 years, our unit has undergone significant advancement and expansion. Starting from the use of massive allograft, to modular or custom tumour endoprosthesis, to the use of Liquid Nitrogen Recycled Autograft, which we introduced to Hong Kong in 2015, our patients have benefited from our expertise in both prosthetic and biological reconstruction. Today, we see over 400 new bone or soft tissue tumours patients and perform over 50 ultra-major surgeries per year.
To provide comprehensive care for patients with musculoskeletal bone and soft tissue tumours and those with major bone or soft tissue defects.
Save life
Save limb
Preserve function
The OLS is responsible for the management of patients with musculoskeletal tumours. The spectrum of diseases includes malignant, intermediate and benign tumours of the bone, soft tissue and skin in the appendicular and axial skeleton.
We provide services in diagnosis, investigations as well as the surgical resection and reconstruction of bone, soft tissue, and skin defects. Musculoskeletal tumours, being complex and rare, frequently require the expertise from multi-disciplinary teams that comprise of Orthopaedic surgeons, Sub-specialty surgeons, Radiologists, Oncologists, Pathologists, and Allied Health Professionals. We are the key personnel within the team who initiate and plan the patient's overall management.
In addition to Orthopaedic Oncology, OLS also provides complex limb salvage reconstruction services to other orthopaedic subspecialties. We utilize our expertise in limb salvage surgery for patients faced with ultra-major and complex skeletal defects.
In-line with our division's vision, we believe in the preservation of the limb as far as possible. However, patient's safety is paramount and we work together with the patient to help them make the most informed decisions with regard to their treatment. Functional restoration is also vital for the patient's quality of life, particularly in cancer patients. Our focus on bone and soft tissue reconstruction as well the subsequent rehabilitation allows our patients to achieve their best possible outcome.
We utilize advanced orthopaedic techniques and technologies for better patient outcomes and continue to improve our practice with the latest innovations:
Vascularised and non-vascularised bone graft
Computer navigated surgery with robotic arm
Custom Patient-specific (PS) cutting guide
Custom and modular tumour endoprosthesis
Non-invasive growing endoprosthesis
3D-printed custom tumour endoprosthesis (in collaboration with Tam Shiu Anatomical Modelling Laboratory)
Liquid nitrogen recycled autograft
Plate-assisted bone segment transport
Our division is committed to providing orthopaedic oncology training to orthopaedic trainees and fellows. We are the first hospital in Hong Kong to have a structured post-fellow training programme for those who would like to practice orthopaedic oncology and we regularly host overseas fellows. We also provide education and basic training for orthopaedic trainees as part of their specialty training.
Our education and training activities include:
Training centre for Higher Orthopaedic Trainees (HOT)
Voluntary attachment program for HOT (Territory-wide)
Post-fellowship orthopaedic oncology training program
Fellowship program for overseas orthopaedic doctors
Musculoskeletal Tumour Course
HKU International Orthopaedic Forum
HKU visiting professorship program
Hospital Authority Central Commissioned Training
Hong Kong College of Orthopaedic Surgeons Subspecialty Day
Lam YL. CORR Insights®: What are the Functional and Surgical Outcomes of Tibial Turnup-plasty for Salvage in Patients With Chronic Lower Extremity Infection? Clin Orthop Relat Res. 2023 Feb 7. doi: 10.1097/CORR.0000000000002581. Epub ahead of print. PMID: 36749833.
Leung ASM, Yeung MCF, Yau RCH, Ho KWY, Shek TWH, Lam AYL. Case report on metastatic pelvic bone tumor treated with frozen autograft by liquid nitrogen. Int J Surg Case Rep. 2021 May;82:105910. doi: 10.1016/j.ijscr.2021.105910. Epub 2021 Apr 27. PMID: 33957402; PMCID: PMC8113746.
Luk MH, Yee AH, Yau R, Ho KW, Lam YL. Vascularised bone graft is an effective technique for extracortical bone bridging to combat cemented megaprosthesis loosening at the bone-implant junction. J Orthop Surg (Hong Kong). 2020 Sep-Dec;28(3):2309499020958167. doi: 10.1177/2309499020958167. PMID: 32955385.
AA Eldesouqi, RCH Yau, WY K Ho, YL Lam. Plate-assisted bone segment transport: Novel application on distal tibia defect after tumour resection: a case report. International Journal of Surgery Case Reports 84 (2021) 106079.
MH Luk, AH Yee, R Yau, KW Ho, YL Lam. Vascularized bone graft is an effective technique for extra-cortical bone bridging to combat megaprosthesis loosening at the bone-implant junction. Journal of Orthopedic Surgery (Hong Kong) 2020 Sep-Dec;28(3):2309499020958167.
P Piakong, P Kiatisevi, R Yau, G Trovarelli, YL Lam, D Joyce, P Ruggieri, T Temple, D Letson, O Binitie. What is the 10-year survivorship of cemented distal femoral endoprostheses for tumor reconstructions and what radiographic features are associated with survival?. Clinical Orthopedics and Related Research (2020) 478:2573-2581.
EM Dim, YL Lam, WYK Ho, CHR Yau, TWH Shek. Tuberculosis osteomyelitis of proximal femur masquerading as bone secondary: A case report. Journal of Orthopaedics, Trauma and Rehabilitation 27(1) 1-4, 2020.
D Jalan, YL Lam, CHR Yau. Spontaneous resolution of a solitary osteochondroma of humerus following trauma-a case report with review of literature. Journal of Orthopaedics, Trauma and Rehabilitation 26(2) 1-4, 2019.
YL Lam. CORR Insight: Is the width of Sugical Margin Associated with the outcome of disease in patients with peripheral chondrosarcoma of the pelvis? A Multicenter study. Clinical Orthopedics and Related Research (2019) 477:2441-2442.
YL LAM, WY Ho, R Yau, VWK Lee, TWH Shek. Management of thigh lipofibromatosis in a newborn: a case report. Hong Kong Medical Journal 25(1):68-70, 2019.
YL Lam, R Yau, KWY Ho, PL Ho. Antibiotics-laden cement wrap: A simple but effective way of treating patients with megaprosthesis infection. Journal of Orthopaedic Surgery 27 (1)2309499019825587,2019 Jan-Apr.
YL Lam, ACL Chan. Editorial on "Can navigation-assisted surgery help achieve negative margins in resection of pelvic and sacral tumors?". The Journal of Spine Surgery 4(3):681-683,2018.
YL Lam. CORR Insight®: What Factors are associated with Implant Breakage and Revision After Intramedullary Nailing for femoral Metastases. Clinical Orthopedics and Related Research (2018) 476:1834-1836.
U, X Zhu, H Bao, TW Shek, Z Huang, Y Wang, X Wu, Z Chang, S Wu, Q Tang, H Zhang, A Han, KM Cheung, C Zou, R Yau, W Ho, G Huang, S Batalha, J Lu, G Song, Y Kang, YW Shao, YL Lam, J Shen, J Wang. Genetic and clonal dissection of osteosarcoma progression and lung metastasis. International Journal of Cancer 143(5):1134-1142, 2018.
EM Dim, CHR Yau, WYK Ho, YL Lam. Profile of surgically –treated metastatic extremity bone tumours at a university hospital in Hong Kong. Journal of Orthopaedics, trauma and rehabilitation (24)1-8, 2018.
YL Lam, R Yau, KWY Ho, KL Mak, ST Fong, TYC So. Is it possible and safe to perform acetabular preserving resections for malignant neoplasm of periacetabular region?. Clinical Orthopaedics and Related Research 475(3):656-665, 2017.
KH Leung, YL Lam, KWY Ho, TWH Shek. Giant Cell Tumor of the humeral head treated by denosumab: implication to shoulder surgeons. International Journal of shoulder surgery 9(4):135-138, 2015.
HL Lee, WY Ho, YL Lam, TP Ng, KH Li, T Shek, KL Mak, ST Fong, YC So, RKC Ngan, PPL Lau, ACL Chan. Prognostic factors associated with clear cell sarcoma in 14 Chinese Patients. Journal of Orthopaedic Surgery (Hong Kong) 2014:22(2):236-9.
NLW So, CF Chan, KWY Ho, YL Lam. Amelanotic melanoma masquerading as pyogenic granuloma: caution warranted. Hong Kong Medical Journal: 20(3):265.e1-2, 2014.
YL Lam, PA Kolijonen, WY Ho, TP Ng, TWH Shek, JSW Wong. Asymptomatic grade-2 central chondrosarcoma of the distal femur with non-aggressive radiological features. Hong Kong Medical Journal 19(1):85-7, 2013.
YL Lam, WY Ho, TP Ng, A Kan, TWH Shek. A sarcoma of 23 years' duration: symptom duration is not a reliable parameter to exclude malignancy. Hong Kong Medical Journal 18(3):250-2, 2012.
For enquiries, please contact Ms CHIU, Catherine at: com571@ha.org.hk