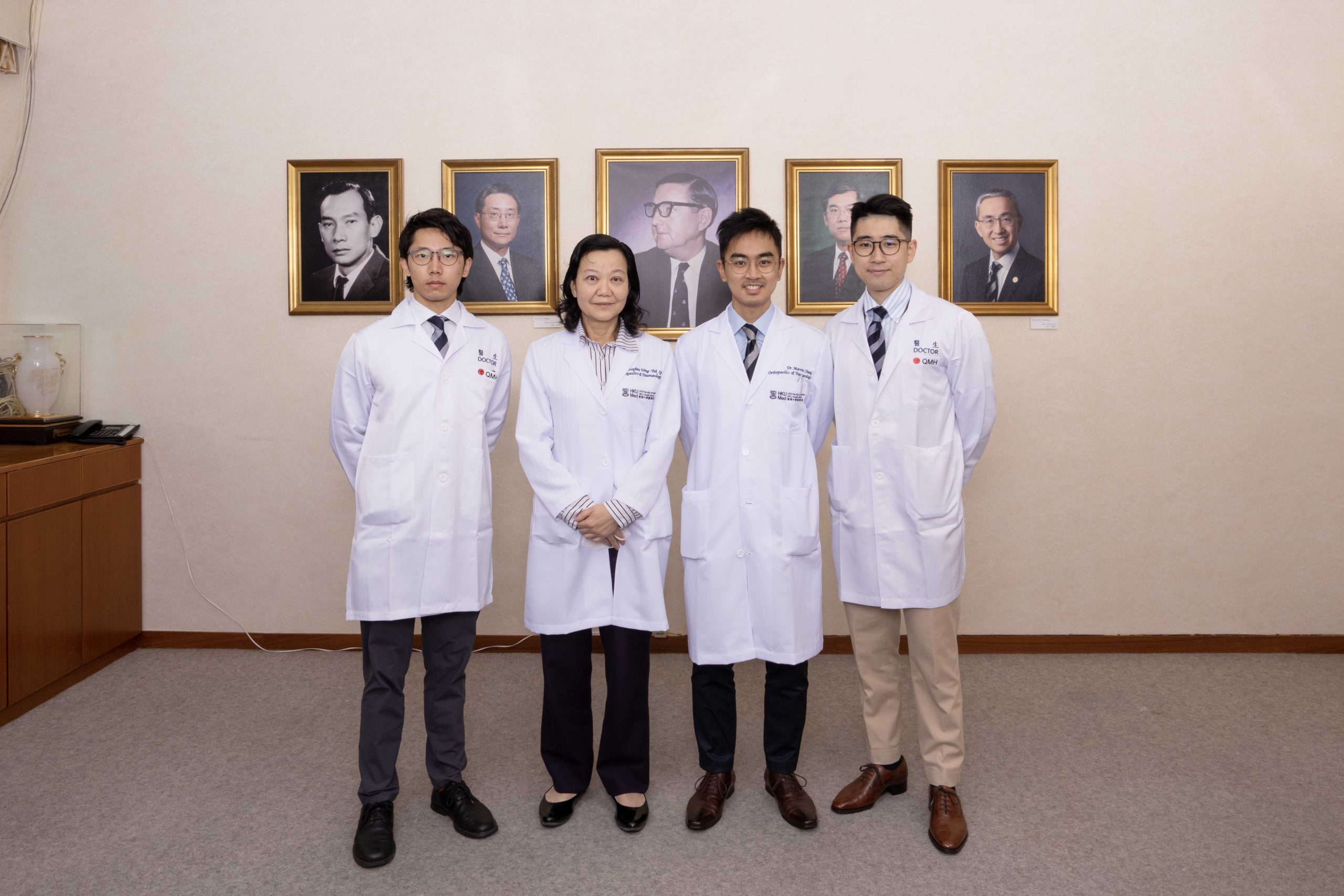 Doctors of Division of Hand Surgery
Hand surgery at HKU has a long tradition dating back to the 1970s and holds an international reputation for its management of hand injuries, being the first in Hong Kong to perform a successful microsurgical thumb replantation in 1977, with a prospective collection of the largest series of hand fractures in the world with over 1,000 cases. Professor Shew-ping Chow, being a pioneer of hand surgery in Hong Kong, brought in techniques from abroad in the 1970s and accelerated the development of hand surgery as an established subspecialty in Hong Kong. He founded the hand team in Queen Mary Hospital in 1978 which later evolved into a formal division in the HKU orthopaedic unit with 3 major pillars: clinical service, education and research.
The Division of Hand Surgery, currently led by Dr. Josephine Wing-yuk Ip, provides clinical service in the Hong Kong West Cluster of Hospital Authority at Queen Mary Hospital, Duchess of Kent Children's Hospital, David Trench Rehabilitation Centre and MacLehose Medical Rehabiliation Centre. University staff members of the division are also part of the HKU Health System with provision of clinical service at Gleneagles Hospital Hong Kong.
Clinical service covered by the division include a wide range of pathology in the hand, wrist and upper limbs, including but not limited to upper limb skeletal trauma and soft tissue injury, infection, tendon and ligament pathology, degenerative and inflammatory conditions, peripheral nerve and brachial plexus pathology, benign and malignant tumour, burn, and congenital upper limb anomalies. The division also has expertise in orthoplastic surgery with microsurgery, flap coverage, limb salvage surgery, complex soft tissue reconstruction and wound management. Our centre is also one of the largest neuro-orthopaedic centres in Hong Kong, specializing in upper limb and lower limb surgical treatment for spasticity and paralysis following spinal cord injury, stroke and cerebral palsy.
Reconstruction for thumb polydactyly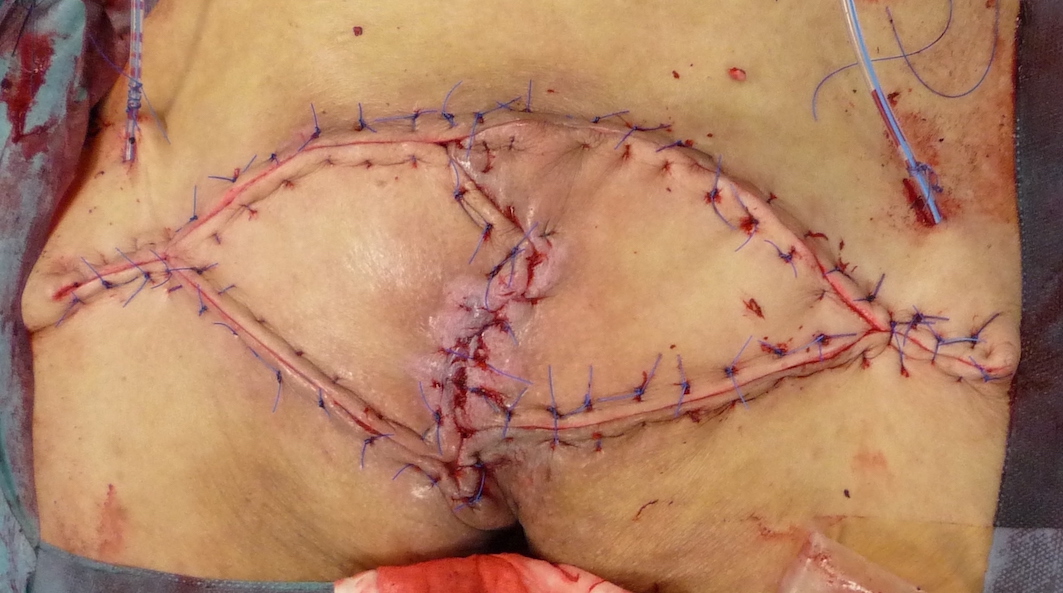 Flap coverage for sacral sore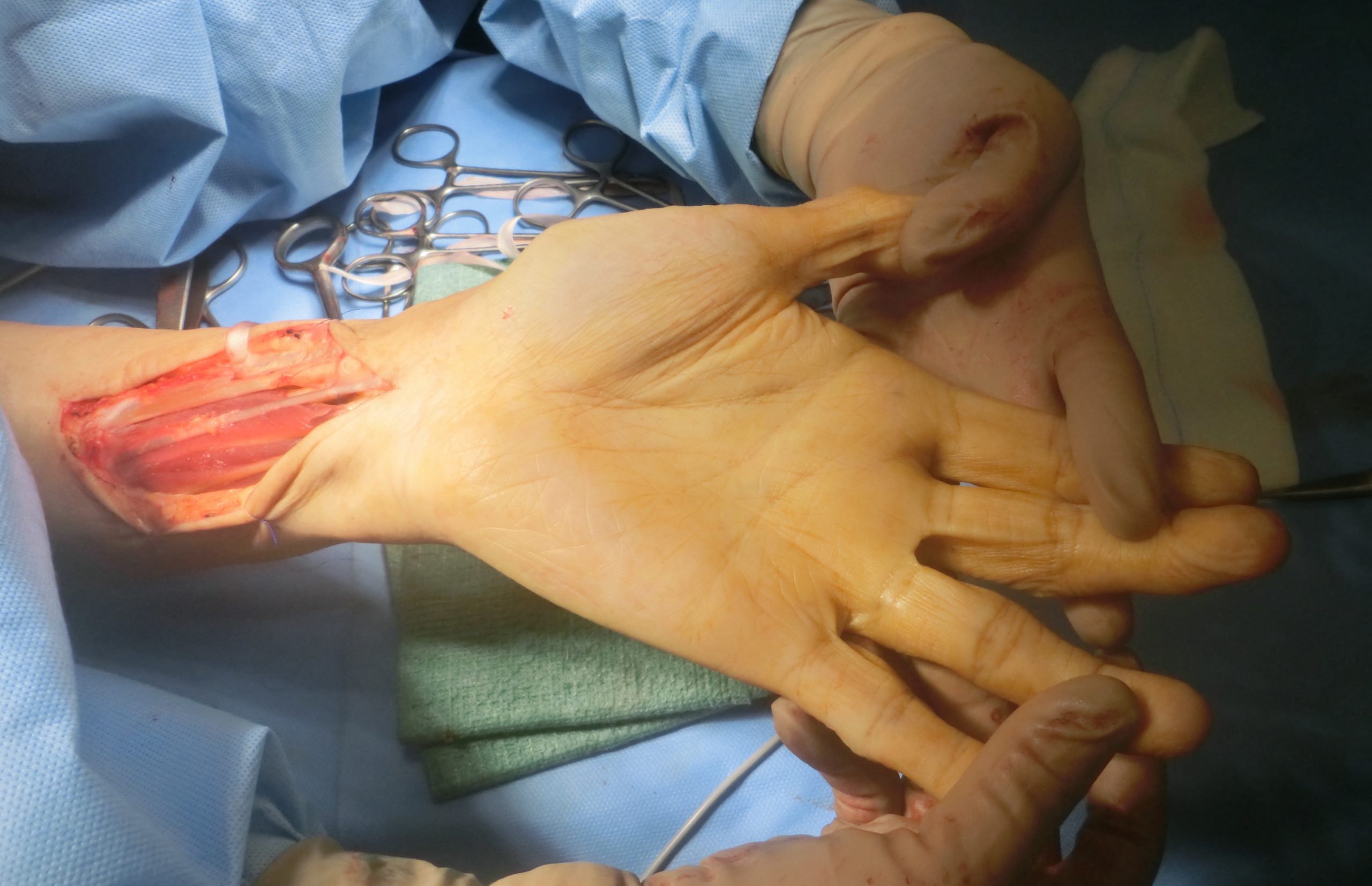 Superficialis-to-profundus tendon transfer for clenched fist deformity after stroke
Multidisciplinary care is hallmark in the Division of Hand Surgery. The division sees approximately 10,000 cases per year in its various outpatient clinics. The "hand class", a combined clinic held together with physiotherapists and occupational therapists, provides a one-stop clinical care with clinical consultation, wound management and rehabilitation therapy in the same setting. The same multidisciplinary approach also applies to weekly grand round, post-operative meeting and congenital hand clinic at Duchess of Kent Children's Hospital where our rehabilitation therapists provide specialist input and knowledge exchange as well.
QMH hand class – a one-stop centre for multidisciplinary hand care
Undergraduate medical education
Division members are responsible in providing clinical teaching to undergraduate medical students in HKU, ranging from seminars and problem-based learning tutorials in clinical foundation block, to bedside and outpatient clinic teaching and operating theatre sessions in specialty clerkship.
The division also hosts clinical attachment for medical students as part of HKUMed MBBS curriculum, to provide wider exposure in various surgical and non-surgical management of upper limb pathology and a complete experience in routine duties of hand surgeons. Overseas medical students are also welcome to attach to the division for 4-8 weeks as their clinical elective training. Details are available through the faculty website.
Postgraduate medical education
The division hosts regular training activities to local doctors, orthopaedic trainees and specialists. From knowledge-based clinical conferences, interhospital meetings, seminars, to animal microsurgery courses and cadaveric workshops for surgical techniques, we share our experience to the wider medical community of Hong Kong and beyond for professional development.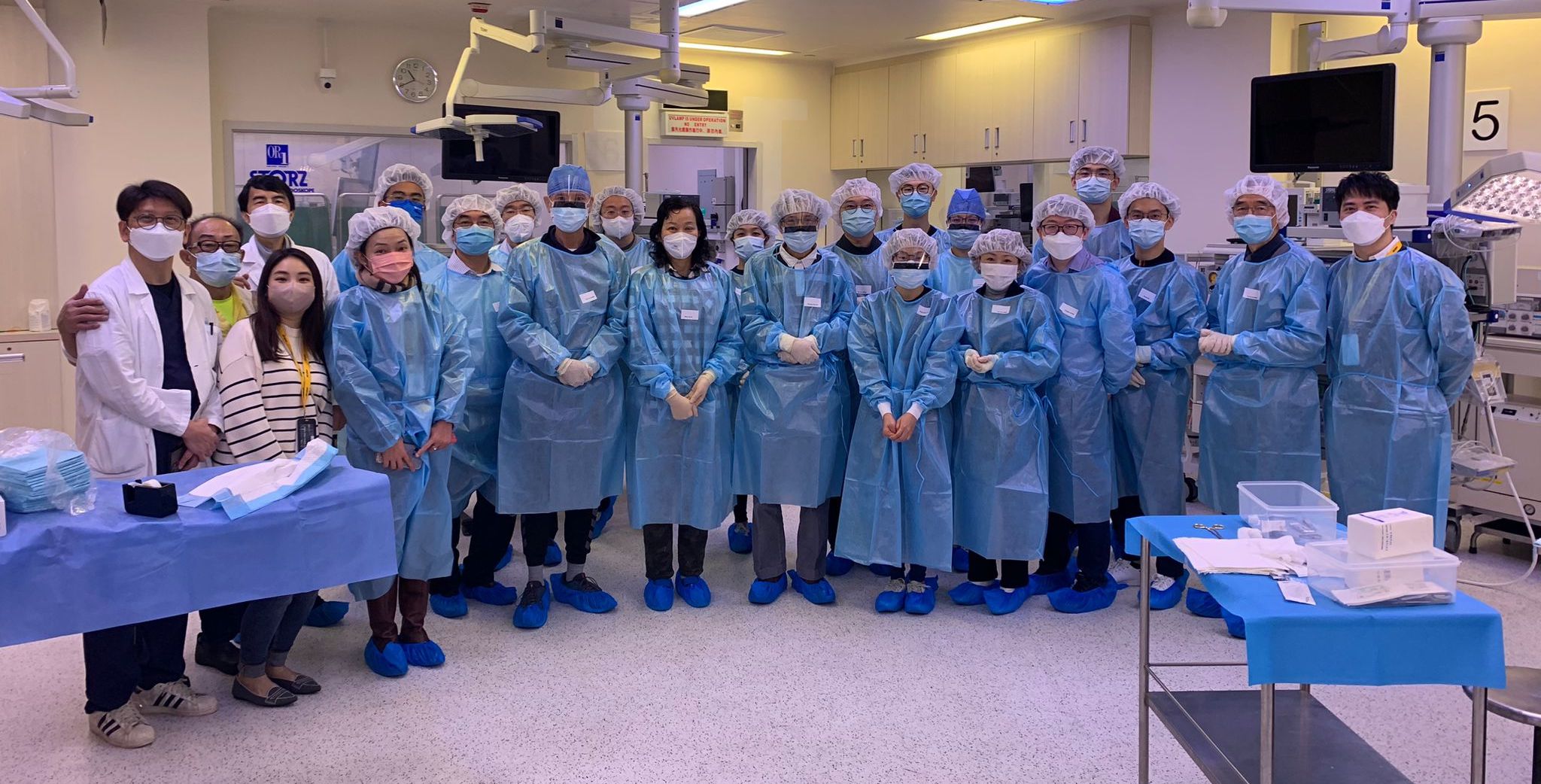 Cadaveric course in paralytic reconstruction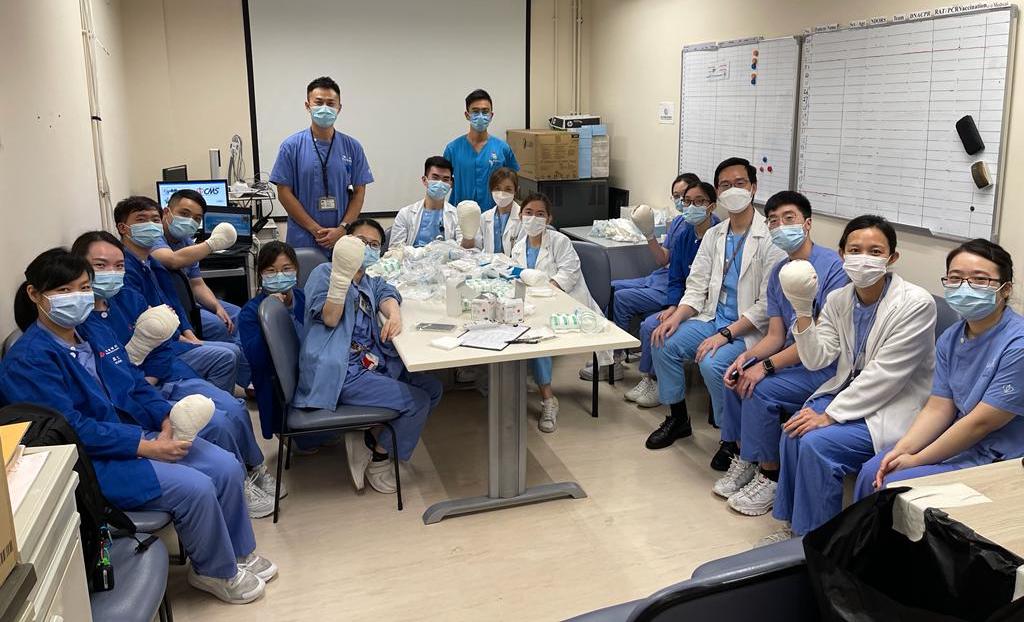 Boxing glove workshop for nurses and house officers
Fellowship
The division also provides opportunities for overseas doctors and researchers to obtain advanced training in hand surgery and related research at HKU. Previous international hand fellows came from a wide range of countries including mainland China, Phillipines, Pakistan, India, Bangladesh, Egypt and Yemen. Details are available at https://www.ortho.hku.hk/education/fellowships-visitors/hand-fellow-or-foot-and-ankle-fellow/.
With the changing spectrum of pathologies from injuries to degenerative and inflammatory conditions, the division is paying increased attention to the development of artificial finger joints. We have our own novel design which has already undergone biomechanical and animal tests. The next stage is to perform clinical trials. Tissue engineering is another area which will be complimentary to microsurgery. The use of resorbable polymers for guided bone regeneration in segmental bone loss was proven successful in animal models, and similar techniques are currently being applied by our division to clinical cases, with promising early results. New methods of fixation for hand fractures were developed and two of our designs are already patented.
Excellence in research is a major goal within the division, special areas of development include bone regeneration using a tissue engineering approach, arthroplasties for finger joints, and the use of growth factors for wound problems. Clinical areas of interest include the use of functional electrical stimulation, artificial sensation, myoelectric hand prosthesis and surgery in reconstruction of neuromuscular conditions.
Examples of previous and ongoing studies
Hand fracture (supported by Research Grants Council of Hong Kong):
Splintage programme
Distal phalangeal fracture study
Biomechanical study of various internal fixation methods
Biomechanical study of soft tissue in finger
Wound Management:
Management of diabetic ulcer
Application of growth factors for different wound problems
Upper limb prosthesis:
Artificial sensation & its application in prosthesis, myoelectric hand & pressure sores.
Implantable EMG recording electrode
Neuromuscular disease:
Brachial plexus injuries
Tetraplegic reconstruction and functional electrical stimulation
Nerve regeneration in CNS/PNS junction
Difficult wrist problem:
Chronic wrist pain: dorsal wrist syndrome & sequelae of fracture distal radius
Anatomical and radiological study of phalangeal bones
Rare hand and wrist infection:
Observational study of our treatment result
New drug treatment regime
Microsurgery:
Study of reverse flow flap in lower limb
Effect of bFGF to improve venous congestion in reverse flow flap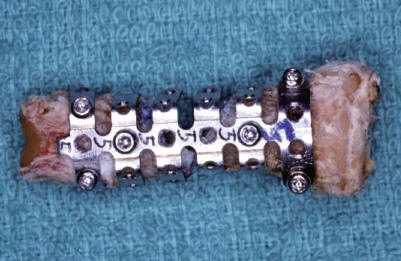 Our patented hand fracture fixation implant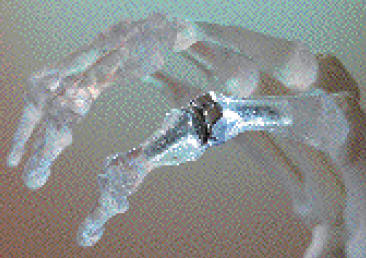 Our own novel design of artificial finger joint
The division of hand surgery also goes on regular medical mission trips where our expertise in hand surgery is provided to those who have limited access to hand surgeon specialist care in the Asia-Pacific area, via academic exchange and surgical demonstration. A longitudinal relationship was established to ensure long-term follow-up care is achieved in patients who received surgeries for deformity correction and hand reconstruction.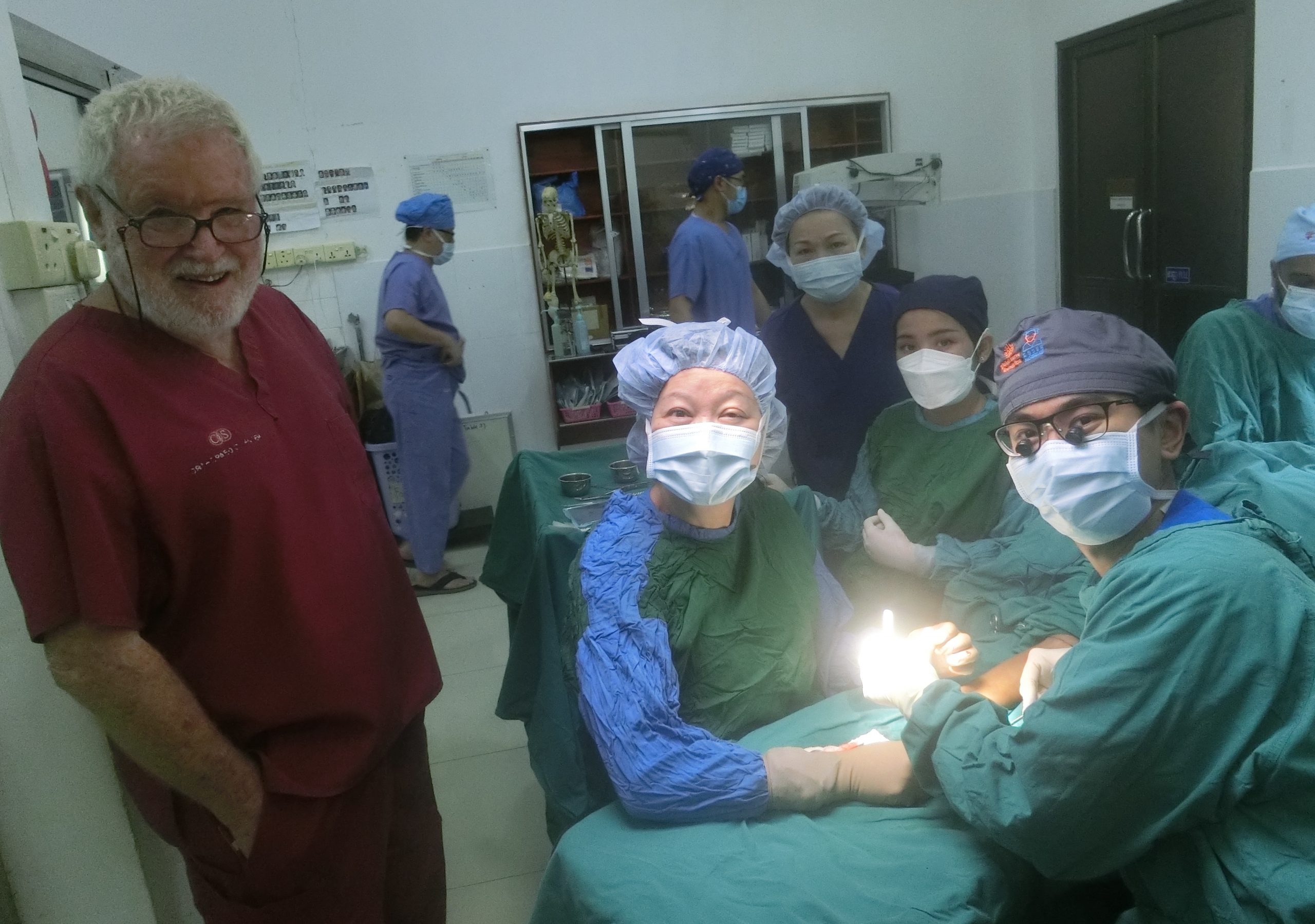 Visiting Children's Surgical Centre, Phnom Penh, Cambodia