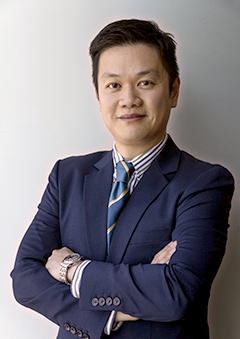 MBBS(HK), FRCS(Edin); FRCSE(Ortho)Edin; FHKCOS; FHKAM
Clinical Associate Professor, Honorary Associate Consultant
Division of Joint Replacement Surgery
Dr. Chun-Hoi Yan is a Clinical Associate Professor in the Division of Joint Replacement Surgery, Department of Orthopaedics & Traumatology, The University of Hong Kong. He is an orthopaedic specialist with expertise in managing arthritic conditions and joint replacement surgeries. Dr. Yan graduated from the Faculty of Medicine, the University of Hong Kong in 2001. He became a Fellow of the Hong Kong College of Orthopaedic Surgeons and The Royal College of Surgeons (Edinburgh) in 2008.
Dr. Yan's current research work is on joint diseases. His research interests include clinical outcome measures in joint replacement surgery, epidemiology and genetics of osteoarthritis, cartilage degeneration and regeneration. Dr. Yan is also very active in educating medical students and young orthopaedic surgeons. He is in charge of the undergraduate medical education and curriculum in Orthopaedics in the University of Hong Kong.
In recognition of his work, Dr. Yan has received awards including the SICOT Best Clinical Paper Award, HKCOS Hodgson Best Clinical Paper Award, HKCOS Best Orthopaedic Basic Science Award, and HOCOS David Fang Trophies for Best Clinical Paper in Joint Replacement Surgery. He also has authored many scientific publications in peer-reviewed journals.
Clinical and research interests
Joint replacement surgery of the knees, hips, elbows and shoulders
Osteoarthritis – from basic to clinical
Management of arthritic conditions
Distal femur rotation relates to joint obliquity in ACL-deficient Chinese. Yau WP, Chiu KY, Fok AWM, Yan CH, Ng FY. Clin Orthop Relat Res 2013; 471:1458-1464
Interactions between human mesenchymal stem cells and human osteoarthritic chondrocytes in 3D co-cultures. Diao H, Yan CH, Chan GCF, Chan BP. Regenerative Medicine, 2013 8(3): 257-269
Bone loss at subchondral plate in knee oesteoarthritis patients with hypertension and type 2 diabetes mellitus. Wen C, Chen Y, Tang HL, Yan CH, Lu WW, Chiu KY. Osteoarthritis & Cartilage 2013 Nov; 21(11):1716-23
Anterior dislocation after total hip replacement – effects of pelvic rotation and hip ball size. Ng FY, Wang Q, Chiu KY, Yan CH. Hip International 2013 Sep 10;23(4):386-90
Spatial and temporal changes of subchondral bone proceed to microscopic articular cartilage degeneration in guinea pig with spontaneous osteoarthritis. Wang T, Wen CY, Yan CH, Lu WW, Chiu KY. Osteoarthritis & Cartilage Apr 2013; 21:574-581
Imaging biomarker with T1ρ and T2 mappings in osteoarthritis – in vivo human articular cartilage study. Wong CS, Yan CH, Gong N, Li T, Chan Q, Chu YC. European Journal of Radiology, 2013 82(4): 647-650
Collagen fibrils stiffening in osteoarthritic cartilage of human beings revealed by atomic force microscopy. Wen CY, Wu CB, Tang B, Wang T, Yan CH, WW Lu, Pan H, Hu Y, Chiu KY. Osteoarthritis & Cartilage 2012 Aug; 20(8):916-22
Multimodal periarticular injection versus continuous femoral nerve block following total knee arthroplasty – A prospective, crossover, randomized clinical trial. Ng FY, Ng JKF, Chiu KY, Yan CH, Chan CW. Journal of Arthroplasty  27:1234-1238, June 2012
Total knee arthroplasty for primary knee osteoarthritis: changing pattern over the past 10 years. Yan CH, Chiu KY, Ng FY. Hong Kong Medical Journal 2011, 17(1): 20-25
Revision total hip arthroplasty with femoral impaction bone grafting. Yan CH, Chiu KY, Ng TP, Ng FY. J Ortho Surg 2010 Dec, 18(3): 303-8
Inter- and Intra-observer Errors in Obtaining Transepicondylar Axis and Whiteside's Line. Yan CH, Yau WP, Ng TP, Lie WH, Chiu KY, Tang WM. J Ortho Surg (Hong Kong) 2008 16(3):316-20
Errors in identification of the distal femur transepicondylar and anterior posterior axes in minimal incision TKR and conventional incision TKR – A cadaveric study. WP Yau, A Leung, KG Liu, CH Yan, LLS Wong, KY Chiu    Journal of Bone and Joint Surgery (British Edition) 90B:520-526, April 2008.
David Fang trophy for the best paper on adult joint reconstruction, 32st Hong Kong Orthopaedic Association Annual Congress 2013
First Prize for the best clinical paper presentation in arthroplasty, the Chinese Orthopaedic Association Annual Congress 2013
The SICOT/CCJR Meeting Award for best clinical paper presentation, the Combined 33rd SICOT & 17th PAOA Orthopaedic World Conference. Nov 2012
Arthur Hodgson Award for best clinical paper, 32st Hong Kong Orthopaedic Association Annual Congress 2012
David Fang trophy for the best paper on adult joint reconstruction, 32st Hong Kong Orthopaedic Association Annual Congress 2012
Orthopaedic Basic Science Award, 31st Hong Kong Orthopaedic Association Annual Congress 2011
David Fang trophy for the best paper on adult joint reconstruction, 31st Hong Kong Orthopaedic Association Annual Congress 2011