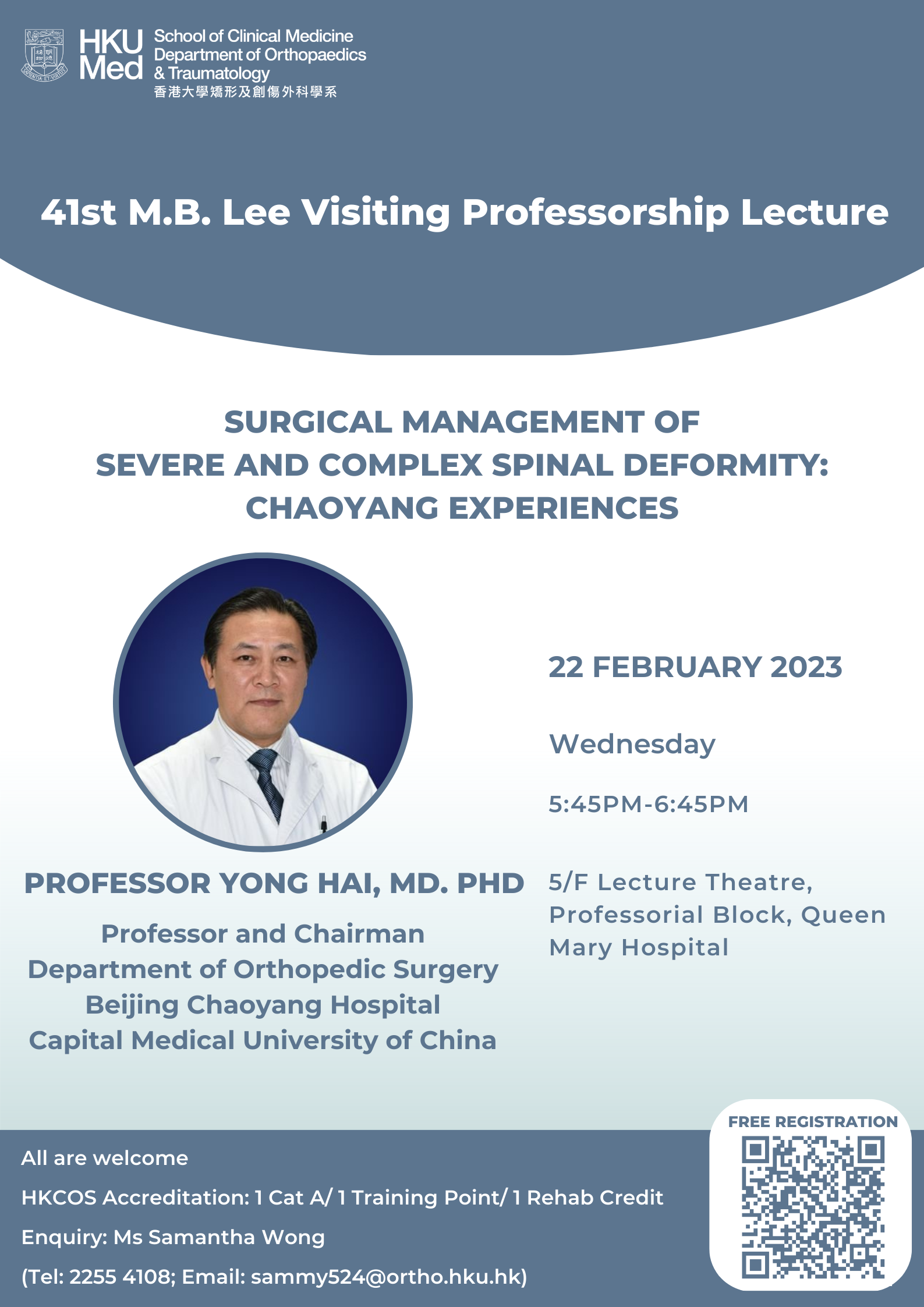 Topic
Surgical Management of Severe and Complex Spinal Deformity: Chaoyang Experiences
Abstract
Severe, rigid and complex spinal deformity, which includes congenital or idiopathic scoliosis and kyphosis with Cobb more than 90 degrees and flexibility less than 30% are the challenges for surgical management. The complex structure of the deformity in nature, compromise of pulmonary function, and deterioration of the patient's health condition provide unfavourable surgical outcomes with a high rate of complications. For the last ten years, we have carried out a collective strategy for the surgical management of severe, rigid and complex spinal deformities.
The measures included:
Pre-operative comprehensive traction protocol with staged corrective surgery;
Modification of spinal osteotomy procedures to downgrade the osteotomies;
Individualized precious pre-operative evaluation and surgical planning, as well as execution utilizing digital and 3D technologies.
These measures have achieved significant improvement in the correction rate, with a decreased rate of major complications.
Speaker
Professor Yong Hai
Professor and Chairman
Department of Orthopedic Surgery
Beijing Chaoyang Hospital
Capital Medical University of China
Date
22 February, 2023 (Wednesday)
Time
5:45PM-6:45PM
Venue
5/F Lecture Theatre, Professorial Block, Queen Mary Hospital, Pokfulam, Hong Kong
Course Fee
Free of charge
CME Accreditation
| | |
| --- | --- |
| College / Association | Credit Points Awarded |
| The Hong Kong College of Orthopaedic Surgeons (HKCOS) | 1 CAT A / 1 Training Point/ 1 Rehab Credit |
Free Registration
Target Audience
All are welcome
Enquiry
Ms. Samantha Wong
Tel: +852 2255-4108
Email: sammy524@ortho.hku.hk