The University of Hong Kong (HKU) garnered a total of 12 awards at the Special Edition 2022 Inventions Geneva Evaluation Days. Research teams from the Faculties of Architecture, Dentistry, Engineering and Science, and the Li Ka Shing Faculty of Medicine secured 4 Gold Medals, 7 Silver Medals and 1 Bronze Medal with their inventions in the event.
As one of the most prestigious innovation exhibitions, the International Exhibition of Inventions of Geneva (IEIG) is a remarkable annual global event which is devoted exclusively to inventions and innovations. This year's competition was held in a virtual format in March 2022, where over 780 inventions from 25 countries and regions were evaluated by a panel of professional judges from around the world. The results were announced yesterday (March 28).
HKU has received a total of 41 awards including three prestigeous Gold Medals with Congratulations of the Jury and 15 other gold medals since its first participation in the event in 2018.

Gold Medal:
An Intelligent Orthopaedics Platform: AlignProTM System and Device for Radiation-Free Spine Alignments
An app "AlignPro" which allows the general public to self-diagnose spinal deformities, and is a portable and radiation-free spinal deformity diagnostic device for medical professionals, have been clinically validated. The mobile self-analysis app and diagnosis system are designed to work in tandem, enabling not only early screening of spinal deformities in all age groups but also allowing more accurate diagnostics which will benefit both patients and healthcare providers. It was clinically validated and optimised by Dr Jason Pui Yin Cheung and Dr Teng Grace Zhang from the Department of Orthopaedics & Traumatology, School of Clinical Medicine of HKU.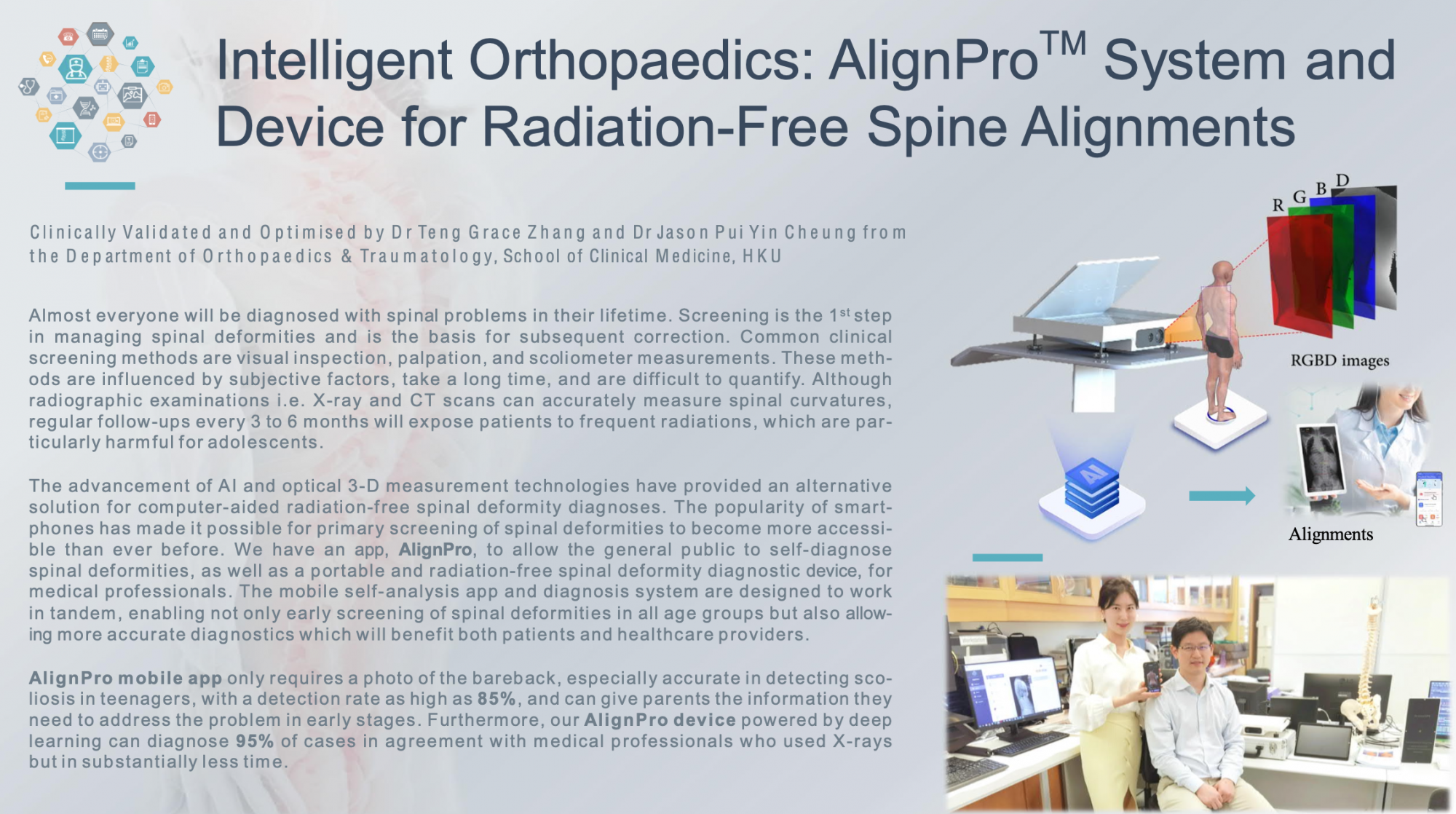 Silver Medal:
Non-contact, non-radiation device that accurately locates multiple implants in a patient's body
A system with a handheld device consisting of contactless radiation-free mobile sensing technology precisely visualises the 3D location of orthopaedic surgical implants in patient's body. The 3D imaging model generated from the system, when compared with past models used during elongation sessions for children with scoliosis, allows a prompt update on the treatment plan and timely warning of mechanical defects of the implants to enhance surgery effectiveness and safety. It was developed by the research team of Dr Weichen Qi, Professor Jason Pui Yin Cheung and Dr Teng Grace Zhang from the Department of Orthopaedics & Traumatology, Faculty of Medicine of HKU.
Click here to see the full list of HKU's award-winning inventions in 2022